Transfers
REVEALED: The transfer fee paid by Zhejiang Lǜchéng to Bengaluru FC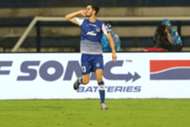 The lowest paid foreign player at Bengaluru FC has turned out to be the best investment they made as Edu Garcia's transfer has fetched them more money than they paid him for the 2017-18 season.
 
He was certainly amongst the top five value for money signings in the Indian Super League (ISL). He scored two goals and had five assists in the 1054 minutes of ISL action. His best performance was against Delhi Dynamos at home where he decimated their defence and provided key passes in attack.
 
Chinese League One outfit Zhejiang Lǜchéng were desperate to sign the 27-year-old Spaniard as coach Sergi Barjuan had earmarked him as one of the key signings for the upcoming 2018 season which kicks-off on March 10.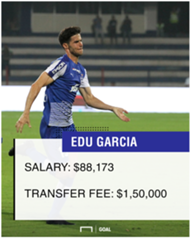 The two clubs were believed to be in talks for the last 10 days or so before the deal was finally closed earlier this week. Garcia was on a salary of $88,173 USD which is around 57 lakhs INR. 
The former Real Zaragoza player had only a little over three months left for his contract to expire. However, the Chinese club were absolutely eager to have him on their roster. 
Bengaluru FC made the most of the opportunity and convinced the Chinese club to shell out close to $150,000 USD which comes to 98 lakhs INR, according to sources close to the development.  
The Blues have become the first Indian club to have received a transfer fee for a player from a foreign club. 
Bengaluru FC are expected to sign a replacement for Garcia in the coming days.