Liga MX
Resilient Santos, Tijuana shake up Liga MX playoffs by eliminating Tigres, Monterrey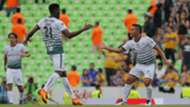 A correction: The two Liga MX teams based in Monterrey will not run off a series of championships making the rest of the league almost obsolete. We regret the error.
After last season ended with a final between Monterrey and Tigres, plenty of media outlets, including this one, hinted that more showdowns between the northern city's two teams would be coming soon. Neither will see the semifinals this season after resilient teams knocked the rivals out of the playoffs.
With the spending power Rayados and Tigres have and the confidence the institutions have in the managers' projects (though that's on shaky ground for Antonio Mohamed at Monterrey), it's hardly a death knell for those teams. It is, however, a reality check. In a league as even as Liga MX, especially with the margins as thin as they are in the playoffs, another meeting in the postseason will not happen every campaign. Another Final Regia still feels like it will happen much sooner than the 50+ years we had to wait for the first one, but we may still wait some time.
Santos Laguna was the favorite on paper, but heading into Sunday's second leg after four consecutive defeats and needing a 2-0 score to advance, Los Guerreros were up against it. When Jonathan Rodriguez was harshly sent off in the 28th minute it was even less likely they would find a way through. Missing a teammate served to motivate them instead of provide a hardship. They kept pushing, repelling Tigres' assaults even as Tigres manager Tuca Ferretti put on Jurgen Damm to add speed to an attack already able to count on Andres-Pierre Gignac and Eduardo Vargas up top.
Djaniny's low shot, which Tigres goalkeeper Nahuel Guzman couldn't handle in another of a concerning series of errors in important matches, was the difference and Santos hung on. The forward had to make way, appearing to tweak his groin and leaving the field on a stretcher instead of running off to celebrate his goal. It was a symbol of how hard he and Santos worked to cap off the comeback.
Ferretti didn't take questions after the match, offering up a statement and then departing to begin the offseason.
"A team that played with heart eliminated us. We never had that. A team that gave everything, that ran, eliminated us and we never did that even when they had 10 and we had 11," he said. "We never showed superiority when we were a man up. That's the cause of our elimination. I could sum it up by saying Los Guerreros eliminated some bourgeois Tigres."
His colorful word choice reflected the story of the day. Santos lived up to their nickname of being warriors and fighting even with their backs against the wall. Meanwhile, Tigres thought they had everything they needed, hoped to rest on their wealth, but ultimately couldn't cope with true fighters.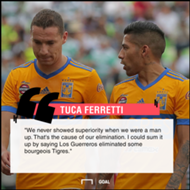 Tijuana had an even taller task, with Monterrey holding the advantage of moving through in case of a tie on aggregate and away goals thanks to a better regular season finish. An early goal off a big deflection gave Tijuana the advantage and Xolos had a second goal when Jose Basanta sold out to a slide tackle he didn't pull off allowing Gustavo Bou to set up Juan Manuel Lucero for a second. From there, a Tijuana team gifted in the defensive department was able to hold Rayados to just one goal and move into a semifinal against Toluca.
When asked if the season was a failure, Monterrey defender Stefan Medina said, "Totally. Monterrey is a team who has to be disputing finals. We feel like we owe it (to our fans), we recognized that and there's nothing left to do except work, knowing that we messed up when we shouldn't have and...that's it. I think as responsible human beings we know we made mistakes today."
Medina alludes to the need for Monterrey to get back to the final after losing last season's deciding game - also at home in Estadio BBVA Bancomer. There will come a time when Monterrey is able to repay the debt they feel. Neither Monterrey nor Tigres are going anywhere.
Already there are rumors about Tigres signing players and Monterrey being in the market for big names. They'll be back, but perhaps the teams read the press accounts about their ascent a little too carefully. Neither was ready for the difficult teams they faced in the second leg, and now instead of a final broadcast on over-the-air television thanks to the state government like December's match, fans in Monterrey will have little desire to even see the final with their teams not involved.