Arsenal
Rejuvenated Wilshere eyes extension to expiring Arsenal contract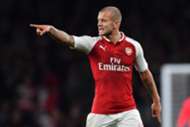 Jack Wilshere believes he is "back" and is setting his sights on earning an extension to his Arsenal contract.
Having seen a once promising career blighted by injury, the 25-year-old midfielder is having to prove himself all over again.
Wilshere 11/1 to score last v Brighton
He is taking on that challenge in the knowledge that he has less than a year left to run on his current deal at Emirates Stadium, with it possible that he could be released in 2018.
Wilshere is determined to ensure that does not happen, with the home-grown talent eager to prolong his association with the club.
"You are always playing for your future but I am happy to be back, to feel part of the squad," Wilshere said when quizzed on his long-term plans.
"I am fit and healthy and getting back to my best and when the time comes to sit down and talk or not we will see.
"Do I see myself staying? Of course I do. I love this club. They have been good to me over the years, I have a great relationship with the boss.
"He [Arsene Wenger] has played me since I was 17. He has put his trust in me since then. We have a great understanding and of course I want to stay."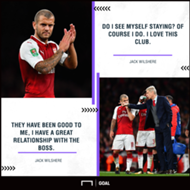 Wilshere spent the 2016-17 campaign on loan at Bournemouth, with his season cut short by a broken leg.
He has worked his way back from that latest injury to earn Carabao Cup and Europa League outings for Arsenal, with his latest performance against BATE earning widespread praise.
"I definitely feel I am back," he added.
"I felt good coming back to Arsenal and into training and [Wenger] has been good.
"Everyone says 'you are never fit' but last season I was fit for the whole season. It was only in April that I got injured, but my rehab went well.
"It has been a while since I felt like a proper Arsenal player but I am back, playing these types of games."
Wilshere will now be setting his sights on a first Premier League appearance for the Gunners since August 2016, with Wenger's side set to face Brighton in their next fixture on Sunday.