Virgil van Dijk
'Real fighter' Van Dijk's rise from centre-forward to world's most expensive defender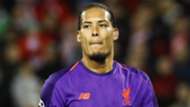 Virgil van Dijk's meteoric rise to become the world's most expensive defender has left some of his former team-mates shocked despite showcasing his class at an early age.
Netherlands international Van Dijk has proven to be a hit at Liverpool despite eyebrows being raised by his £75 million ($96m) price tag following his move from Southampton in January.
He has grown into a pillar of consistency for Jurgen Klopp's side, and at 27 he still has time on his side to build a legacy as one of the modern game's finest centre-backs.
Van Dijk has come a long way since he first turned out for Groningen as a youngster, where he played alongside fellow defender Kees Kwakman.
Kwakman played 47 times for the Eredivisie outfit between 2011-13, and concedes that when he first saw Van Dijk he never felt that he would go onto become the player he has, despite interest from AC Milan before he left for Celtic.
"Did we see then that he would be the most expensive defender in the world? If I said yes, I would be lying," he admitted to  Goal . "It went step by step.
"At first, we thought 'OK this is a talented player'. After a few weeks, it was 'alright, he has his place in the starting line-up', and then after six months it was 'he has nothing to do with us in Groningen'. So, it was progressive.
"When I arrived, he was very young. He was not yet a regular part of the first team. But from the first weeks, you could see he was a player apart.
"A great defender, of course, but he was also very good and comfortable with the ball at his feet.
"It was obvious that he was a real talent, and he quickly gained his place in the starting line-up. And it did not take too long to see that he was a really great player.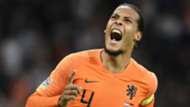 "With the ball, he was very at ease and impressive, especially because of his stature. And he was also a real fighter.
"He first joined Celtic, in a lesser league than the Premier League, to first adapt to the British style of play. From there, he went to Southampton and, finally, Liverpool. So, I think he made the right choices and was well advised.
"I remember that, when he was in Groningen, AC Milan were interested in him. But, for a player who was moving abroad for the first time, he followed a good trajectory.
"He played very well in each of these clubs. Seeing him at Southampton, I was convinced that he would have his place at a very big club."
Pieter Huistra, one of Van Dijk's first coaches, concurs with Kwakman's assessment, revealing that he considered playing him as a striker at times due to his physical stature.
"He came to us from Willem II, and he first played with the reserves," he told  Goal . "At the time, he was already tall, but he was not as strong as he is today.
"He still had to progress in terms of power in particular. And with us, he sometimes played as a centre-forward as well as a central defender.
"When he joined the first team, we quickly saw that he had great potential. He had a very good style. 
"But he still had to learn, especially in terms of the decisions that a central defender has to make. When he had to take risks or not. How to play with others, defend together. All these things. But, as an athlete, he was always impressive."
Van Dijk will next be in action on Friday as Netherlands take on France in the UEFA Nations League before returning to domestic football on November 24 when Liverpool travel to Watford.