Mamelodi Sundowns
Rayon Sports were the better team in the second half, says Sundowns' Pitso Mosimane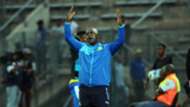 Mamelodi Sundowns coach Pitso Mosimane was critical of his side's first half display as they played out to a goalless draw in their Caf Champions League first leg qualifier against Rwanda's Rayon Sports.
Masandawana made the trip to Kigali on Wednesday evening where they were met by a difficult opponent in the Rwandans. But despite the draw, Sundowns were certainly dominant throughout the first half as they launched wave after wave of relentless pressure only to be guilty of once again squandering several golden chances.
This allowed Rayon to gather themselves as they came out of the tunnel at halftime and put on an impressive display which at times had the Brazilians firmly under the cosh.
Nonetheless, following the draw the Sundowns mentor heaped praise on the opposition but at the same time revealed his displeasure with his side's attitude in the first half.
"I think Rayon Sports are a very good team, don't undermine them," Mosimane told Rwandan TV post-match.
"They played very well, they had a chance in the second-half, they hit the post, they could have scored. They took the second half. They played better than us, we were naughty. We were messing around in the first half," he admitted.
Sundowns will now have everything to play for when Rayon travel to South Africa for a clash on on March 18, and Mosimane admits that his side will not be taking anything for granted.
"We will be playing the same way we played today and hopefully we take the chances," he said.
Furthermore, while Mosimane is confident that his side can overcome the Rwandan champions in Tshwane, he believes it won't be a walk in the park.
"Easy? No, but I think we can win at home, yes, but not easy," he concluded.
But before Sundowns can think of the return leg, they will now need to shift their focus to Nedbank Cup action as they next host minnows EC Bees on Tuesday.