Argentina
Radio silence: Why Messi & Argentina are continuing their press blackout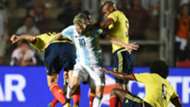 ---
COMMENT
---
The repercussions of an unfounded accusation from 2016 continue to sting inside the Argentina national team, who plan to maintain their boycott of the press this week as the Albiceleste face two key World Cup qualifiers. 
Ezequiel Lavezzi had been the man in the firing line last time around, when Radio Mitre journalist Gabriel Anello alleged he had been smoking marijuana in the Argentina training camp. Anello's 'revelation', never proven or tracked back to a reliable source, caused uproar on Twitter, just hours before Lionel Messi's team took to the field against Colombia following a bruising 3-0 defeat at the hands of Brazil back in November. 
NxGn: Football's top talents revealed
Mitre is one of Argentina's largest media outlets, and part of the Clarin Group empire that controls hundreds of diverse newspapers, television channels and radio stations. The radio station refused to condemn Anello for his unsubstantiated attack, instead basking in the free publicity and 'clicks' one of its most recognisable journalists had brought to its doors. The content was irrelevant: what mattered in this case was taking full advantage of the 'fake news' and its diffusion. 
Argentina's response was instant. Following the Colombia clash, won 3-0 with goals from Messi, Lucas Pratto and Angel Di Maria, the squad appeared en masse at the traditional post-match press conference to read a statement vowing not to answer any media questions, and duly filed out again. That restriction remains in place four months later, with no conferences scheduled prior to Thursday's clash against Chile for players and just one media appearance from coach Edgardo Bauza. 
Lavezzi's supposed drug habit was the straw that broke the camel's back. Argentina have long railed against the treatment they have received from the local press, intensely demanding and critical even of Messi. "Some people want us to lose and hurt us," Di Maria alleged after the 2014 World Cup. Gonzalo Higuain concurs: "Everyone can say what they like, but there are certain things that are done with malice."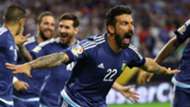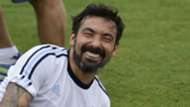 And while the players, for the most part based thousands of kilometres away from their country in Europe, hear of the attacks only in passing, their greatest concern is for those back home. Higuain explained that the worst part was seeing his mother suffer with the comments. "Seeing my old lady hurt kills me," he confessed, after receiving a level of media flak for his performances that would crush a man of lesser resolve. 
The current Albiceleste squad is overwhelmingly based around the side that ran out champions in the 2008 Olympic Games, and in two successive Junior World Cups in 2005 and 2007. Those in the dressing room are a close-knit group, and make decisions on a democratic basis with Javier Mascherano and Sergio Romero the principal spokesmen. Messi holds a slightly different role: firstly, because his leadership is reflected in actions, not words; and second, because he does not let the intense coverage of his every move weigh on the rest of the team, choosing to keep his joy or disappointment strictly personal - the perfect example being his short-lived international retirement following the 2016 Copa America. 
If you attack one member of that group, you attack them all. Lavezzi has been no more than a marginal presence in China since completing his move from PSG, and on merit alone certainly would not justify a place in the squad. But he is a familiar face around the Albiceleste, whose jokes and attitude are seen as more beneficial to the group's morale than his talents on the field. Accusing Pocho of smoking cannabis was not just an assault on his reputation, but an indictment of any professional side whose behaviour would be so lax as to permit illegal drug use inside the camp. 
Giving press conferences, unlike in a World Cup or Copa America, is not obligatory in the qualifiers. Messi and the rest of the Argentina squad are livid with the treatment they have received from the media, and feel betrayed at the falsehood circulated concerning a beloved member of their squad. The silence will continue until they are forced into opening their mouths to the press, and no amount of sniping or self-pitying editorials from those affected will change their opinions at the current time.