Malaysia Cup
Pugliese pleased with point in Ipoh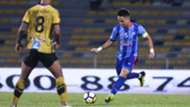 The 0-0 draw was a result that riled the home team who failed to pick up maximum points against the only Premier League in Group A of the 2018 Malaysia Cup and the confrontation immediately after the final whislte showed the frustration that built up from the home camp.
Felcra had produced an outstanding performance away to highly fancied Perak and came away with their first point of their campaign. Perak controlled most of the match but were left disappointed by some good defending from the away side as well as profligacy in front of goal from their forwards.
When the referee blew for the final whistle, Felcra's Tarcisio Pugliese can be seen confronting angrily with Perak's fitness coach Sam Pakiaraj and both men had to be held back by their respective benches to prevent things from escalating.
"The physical coach from Perak said bad words to my players. It made things nervous and it's just things that happened in the heat of the moment, it was nothing special," said Pugliese in the post-match press conference playing down the incident.
That wasn't the only heated moment in the match as Perak felt that Felcra were wasting a lot of time through players needing medical attention as well as one slagging off incident between Nazirul Naim and Nizam Abu Bakar when the latter took his time to be substituted.
The 37-year-old Brazilian went on to praise the performance of his team who more than held their own against the one of the group's favourites. Club captain Shahrom Kalam was an inspirational figure in defence for Perak, continually thwarting the efforts of Gilmar Filho and company.
The Rivals also had their chances to win the game with the chances falling to Casagrande but Perak's Hafizul Hakim was up to the task in those one-on-one situations.
"It was a very good result against a very strong team. We knew it was going to be a very difficult match. Both sides had chances to win but one point is not bad for us. In this moment, we are only thinking of the next match. We only need to think now about Kuala Lumpur," added Pugliese.