CAF Champions League
Primiero Agosto coach Manojlovic complains about Caf Champions League semi-final refereeing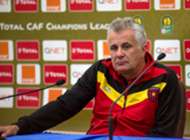 Primiero Agosto coach Zoran Manojlovic fears the only thing that could derail their dream run in the Caf Champions League would be poor refereeing.
The Luanda side beat continental heavyweights Esperance 1-0 at home on Tuesday in a semi-final, first leg match, as they continue marching towards the final.
In a season in which they participated in the group stages for the first time ever, Agosto have already exceeded expectations by reaching the semi-finals.
With menacing Geraldo appearing the prime target of Esperance defenders and being constantly fouled on Tuesday, Manojlovic might have been left feeling his forward was not being protected enough by Senegalese referee Maguette Ndiaye.
This also left the Serbian fearing that poor officiating could cost them as they now prepare for the return leg away in Rades.
"The refereeing was terrible and it hurt us a lot, but we managed to beat one of the best clubs in Africa," Manojlovic was quoted as saying by Caf Online.
"I do not fear playing Esperance in Tunisia, only other factors such as the refereeing. We continue to dream of reaching the final."
With substitute Pedro's late goal sinking Esperance, the Tunisians also ended Tuesday's match with a man down after defender Khalil Chemmam was red-carded in stoppage time.
Manojlovic's fears of refereeing decisions undoing their campaign could also be stemming from the second leg of the quarter-finals when two penalty kicks were awarded against them.
In that match against another continental giants TP Mazembe in Lumbumbashi, Agosto goalkeeper Toni emerged as the hero after saving two spot kicks.