Liga MX
Preventing fast Rayados start key for Tigres in Liga MX final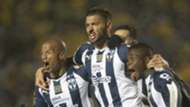 MONTERREY, Mexico — It happened again Thursday night. Monterrey players wheeled off to celebrate an early goal as Tigres goalkeeper Nahuel Guzman protested in frustration.
Rayados have scored in the first half of every Liguilla game, taking the lead in all five postseason contests this year. While Tigres fought back to draw level in the first leg, another early goal from Rayados could result in the team lifting the Liga MX trophy. In a stadium where they haven't lost this tournament and with the ability to soak up pressure and surge forward for dangerous chances, allowing another soft goal in the first half is the last thing Tigres can afford.
#NoTeLoPierdas
G⚽⚽⚽L de Nicolás Sánchez@TigresOficial 0-1 @Rayados 
IDA #GranFinalRegia 🤠 #Apertura2017 #LIGABancomerMX
⚽ #SienteTuLiga ⚽ #AbrazadosPorElFutbol pic.twitter.com/PDPwEAjnBc

— LIGA Bancomer MX (@LIGABancomerMX) December 8, 2017
It feels like Rayados are the team heading into the second leg with their heads up and hoping to be the aggressor at home. "It's hard to play a final as a visitor," Monterrey manager Antonio Mohamed said Thursday. "Sunday will be a very different game. Our field, our turf, it's going to be totally different. I think we did well here but the series continues to be open."
Tigres actually held off Rayados for the first 45 minutes on the last matchday of the season, the Clasico Regio that Monterrey won 2-0 to lock up the top spot. But Tigres never could click its own attack in gear and Monterrey eventually found a breakthrough on a Juninho own goal. Keeping Rayados off the scoreboard this tournament has been nearly impossible. Somewhat comically, only Morelia in the first week of the season and a very bad Puebla team were able to do so this tournament. Whether from a set piece, a quick counter or a long ball that sets up Aviles Hurtado or Rogelio Funes Mori, Monterrey is going to find its goal.
The longer the game progresses without Rayados scoring, though, the longer they have to look for it, to poke and prod and fly forward rather than letting Tigres making a mistake in their possession-style. Monterrey would rather protect a lead but can to win the ball back through the forwards coming back or Jonathan Gonzalez pressuring in the midfield if they can't get an early advantage.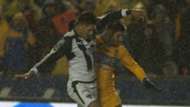 Tigres manager Ricardo "Tuca" Ferretti can't lift a trophy without his team scoring a goal, but also likely will show caution with the team's early tactics. The team that now boasts an attack with Andre-Pierre Gignac, Enner Valencia and Eduardo Vargas, has long had a reputation for being defensive. That's changed a bit this tournament, but Ferretti still can draw up a game plan and put out a squad that could stymie good attacks.
The coach will have to do figure out how to stop Rayados without having Hugo Ayala at his disposal. The center back has been one of the most consistent pieces in a Tigres team that thrives on familiarity. After his foolish second yellow card in stoppage time of the first leg, Francisco Meza likely will slot in between Juninho and right back Luis "Chaka" Rodriguez.
However, each of the teams in this final have depth — it's part of the reason they're made it this far. Dealing with Funes Mori, who has excelled at holding up play and setting up Hurtado or Dorlan Pabon but also managed to find the back of the net six times on his own during the Liguilla, will test more than just Meza's suitability as a Liga MX defender. It will determine if the Colombian can deal with two of the league's best attackers.
Tigres' defense will be busy and could get a huge boost from their attack with a better showing than the unit produced in the first leg. The rainy and cold conditions which turned icy as the temperature continued to drop affected the match, but even so there were chances for Gignac and Valencia they simply couldn't put away. Had the Frenchman been able to find the other side of the post in the second half, we'd be talking about a very different situation. 
"We don't have any reason to change things drastically from one point to another. We're an experienced, talented team," Ferretti said after the first leg. "We have to get better at a few things."
Finishing, he noted, is among them, saying he hoped his team could be "more deadly" in the second leg. To have that opportunity, they'll need to keep the inevitable goal (or goals) from the home team from coming early and entirely changing the complexion of the match.