Dennis Oliech
President Uhuru Kenyatta mourns the late Mama Dennis Oliech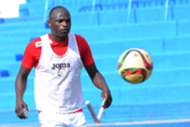 President Uhuru Kenyatta is among the key figures that have eulogized the late Mama Dennis Oliech.
Mary Auma, mother to former Harambee Stars captain Dennis Oliech, died on Friday at her home in Lavington after developing difficulty in breathing. Mama Oliech as she was popularly known was also receiving treatment for cancer.
The late Auma was also popular for her famous 'Mama Oliech' restaurant which she managed. Oliech's elder brother and manager Nickson Onywanda confirmed his mother's death and said the body was moved to Umash Funeral Home.
Five years ago, she was diagnosed with cancer and spent close to one year undergoing treatment in Paris where Oliech was playing football.
I am deeply saddened by the news of the passing on of Mama Oliech this evening. My heartfelt condolences to the family, relatives and friends of Mama Mary Auma, and indeed all Kenyans. May our Lord bless and comfort all of you during this time of grief. #RIPMamaOliech

— Uhuru Kenyatta (@UKenyatta) July 20, 2018
My deepest condolences to Dennis Oliech, the entire Oliech family and the soccer fraternity following the passing on of Mama Oliech after a long illness. We stand with the family in prayer at this time of grief. May her soul forever rest in eternal peace.

— Raila Odinga (@RailaOdinga) July 20, 2018
A sad loss following the passing on of Mama Mary Auma, mother of Dennis Oliech, a leading Kenyan footballer. She nurtured a great son, who opened the gates of professional football to budding players and proved that focus, commitment, diligence, effort are ingredients of success.

— William Samoei Ruto (@WilliamsRuto) July 20, 2018
Kenyan Premier League sends its deepest condolences to the family, friends, & relatives of Mama Mary Auma who has passed on. Mama Oliech will be remembered for her loving and caring nature. Our thoughts and prayers are with her family, friends, and relatives during this sad time.

— KPL (@TheOfficialKPL) July 21, 2018
Tusker FC Board,staff,technical bench and players would like to pass their sincere condolences to Denis Oliech on the passing of his mother Mama Mary Oliech. Its a sad development our thoughts and prayers are with the family.May her soul rest in peace.

— OfficialTuskerfc (@TuskerFC_club) July 20, 2018
This mother, Mary Auma Oliech, gave Kenya her best ever striker, Dennis "the Menace" Oliech, we celebrate your life mama, may your soul rest in eternal peace. #RIPMamaOliech pic.twitter.com/FZzF8G2Wix

— Bonface Osano (@bonfaceosano) July 21, 2018
I extend my deepest sympathies to Denis Oliech and his family for the loss of thier beloved mum.I pray that God grant you and your family strength during this dark https://t.co/eKWMHQlxKo heartfelt condolences 🙏#RIPMamaOliech

— Ogada Olunga (@OgadaOlunga) July 20, 2018
#RIPMamaOliech The Matriarch of Oliech Lineage,gave us a son who made Young footballers from the Slum to believe in their dreams,Dennis Oliech was the torch bearer of Kenyan football and deserves RESPECT and RECOGNITION

— Andrew Chico (@wanguche) July 20, 2018
Thoughts and prayers with Dennis Oliech and his family for the passing of Mama Oliech. Thank You mama for giving us one of the best strikers in Kenya. Forever indebted. May your soul rest in peace. ❤❤❤❤❤....

— #TeamShaffie (@ShaffieWeru) July 20, 2018
My deepest condolences to the entire family of Dennis Oliech on the passing of Mama Oliech.

May the soul of your mother be at peace with our Heavenly Father.

May God give you the peace that you seek.

— Mike Sonko (@MikeSonko) July 20, 2018
My sincere condolences to Dennis Oliech and family for the loss of your mum. My thoughts and prayers are with you. May the Lord comfort you in this trying moment.#RIPMamaOliech

— Hon. Jaguar (@RealJaguarKenya) July 20, 2018
We send our deepest condolences to the Oliech family for the loss of their mother.

We recognize that Dennis Oliech has played and continues to be a great inspiration to young people that talents can be their gateway to success.

We are with you in prayer. God bless.

— WAZITO FOOTBALL CLUB (@wazitofc) July 20, 2018