Super League
Points over performance for delighted Longhi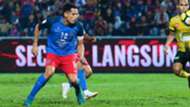 JDT strengthen their hold at the top of the table despite a less than convincing 2-0 win over Perak on Saturday night. The Southern Tigers showed their winning mentality to pull off a crucial win even when the performance on the pitch was not up to their usual standards.
Fernando Marquez and Jorge Santos Silva both got their first goal for the club but it will be a contrasting path for the two strikers after this. Marquez came in as a replacement for Harry Novillo while Silva's replacement has already been announced to be Fernando Elizari.
JDT had a disjointed first half despite taking the lead and had Farizal Marlias to thank, on top of wayward finishing from Perak for being able to go into half time with the lead still intact. Longhi brought on Gary Steven Robbat for Safiq Rahim to shore up the midfield at the start of the second half and it was a plan that worked for JDT.
"Today 3 points very important. Happy with the result and points but I know we need to improve because today we lost so many balls. But it's difficult to play against Perak who have a good midfield and dangerous strikers." 
"We play better in the second half when we started controlling in the middle. We made the change in the second half and we looked more compact," said Longhi after the match.
Longhi also praised the performance of Marquez who started his first game for the club and scored on his debut. The former Belgrano striker was the one that won the penalty after he was impeded by Leandro dos Santos.
The 30-year-old played for 58 minutes against Perak despite only having one training session with the team since his arrival in Malaysia. Longhi is asking for patience from the fans not to make quick judgment on him yet.
"He only just arrived and trained only once. He like to play good combination and was brave to take the penalty. People have to understand that he only just arrived and that is why it wasn't a full performance," added Longhi.
Next up for JDT is a double-header against now second place Pahang and should they avoid defeats in those two matches, the title could well and truly be sewn up for the reigning champions.