NPFL
Plateau United in heartwarming friendly win in Jos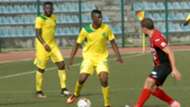 Plateau United defeated Jazzy Stars Academy 2-0 in a friendly tie played on Thursday at the New Jos Stadium, Zaria Road, Jos.
It was a game played to test the fitness level of the Peace Boys and the game was played for about 140 minutes with Godwin Obaje and Saeed Jibrin scoring for the 2017 league champions to make it their first friendly tie since the league went on general elections break last month.
One of the players that featured in the game, Ogene Elijah opined that the technical crew used the game to test the fitness level of all the players and the team played very well but missed several chances to make it an emphatic win.
"It was a tough and energy sapping game because we have not played any friendly game for a long and it was used to gauge our fitness level," Elijah told Goal.
"Jazzy Stars also played very well too. It was the test of our fitness level and we passed the test impressively. I was able to play for the entire duration of the game and a few of my teammates also did. We are going to play another friendly game on Friday."