Super League
Faris stars as Red Ants bite a chunk out of The Red Warriors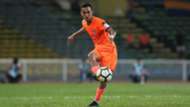 Qayyum Marjoni may have been the subject of the boo boys at Shah Alam Stadium as he went up against his former team mates but the Kelantan fans present missed a trick, when they should have directed their ire towards Faris Ramli who ran the show for PKNS FC in their 1-0 win on Friday night.
The 25-year-old winger produced an outstanding performance as PKNS collected their third win of the 2018 Super League season to go back on top of the standings, albeit likely to be temporary until at least the rest of match day five fixtures are concluded.
The Singaporean international will rightly gather all the plaudits after his 40th minute goal turned out to be the winner that decided the outcome of the tie. Headed goals would be a rarity for the pint sized Faris but he managed to get a header in from a Jonathan Acosta cross and then reacting quickest to put away the rebound after Khairul Fahmi had stop his initial effort.
It wasn't just the goal but more to his all-round performance that set him apart from the rest. Acosta was combining well with Romel Morales in the centre of midfield while Mahali Jasuli became a useful foil for Rafael Ramazotti but it was Faris that stole the show on the night.
Always opening himself up for the pass, the tireless Faris was a complete nightmare for the Kelantan defence to deal with. His direct running had the approximately 7,000 Kelantan fans in terror, each time he was given the chance to run at his marker. 
For Kelantan, this was not the result they hope not, especially after finally earning their first league win in the previous match against Perak. It was another dour display from their expensively assembled foreign players with the exception of Do Dong-hyun who tried to force the issue but found his team mates to be on different wavelengths.
Slowly but surely, K. Rajagopal is building a solid team that is looking increasingly capable of challenging for honours this season. With Zachary Anderson and Rodney Celvin working in tandem in defence, the Morales-Acosta partnership combinng nicely; it is the presence of Faris that looks to make the Red Ants a proper challenger this season.