Kylian Mbappé
Phenomenal Mbappe will score two past Juventus - Raggi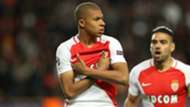 Monaco defender Andrea Raggi believes the presence of Kylian Mbappe gives Monaco a good chance of beating Juventus in the Champions League semi-finals.
Ronaldo slowing down but still incredible
The 18-year-old has been sensational this season, scoring 22 goals in 36 in all competitions, with five coming in the knockout stages of the European tournament.
Mbappe scored three times over two legs as Monaco beat Borussia Dortmund to a spot in the last four, setting up a clash with the Serie A side.
As the Ligue 1 side look to reach their first final since 2003-04, 32-year-old Raggi expects the rising France international to be at his clinical best once again.
"He is a true phenomenon," he said. "When you face him in training you have to cross yourself and hope that something goes wrong and stops him. In one-on-ones he is very fast and has great technique. He is a serene boy.
"He didn't feel any pressure against Manchester City or Borussia Dortmund. I hope he sustains the pressure against Juve, so he'll score two against them as well."
Juve beat Monaco 1-0 on aggregate in the quarter-finals of the competition on their way to the final two years ago, and Raggi says his team are after revenge.
Perez wants Galactico signing as Madrid elections near
"Juve are at the top level and even stronger than they were two years ago. Having said that, so are we, and this is our chance for revenge.
"We never did got over the 2015 elimination and this is the right chance to make up for it, with interest, seeing as there's a place in the final at stake. 
"Two years ago, in Turin they were happy to draw Monaco, but I think now they'll be slightly less pleased. We scare everyone now."