Manchester City
Guardiola 'reminded of responsibilities' by FA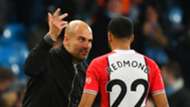 Manchester City manager Pep Guardiola has been reminded of his responsibilities by the Football Assocation (FA) but will not face disciplinary action over his on-field confrontation with Southampton winger Nathan Redmond.
The Catalan was involved in a seemingly heated conversation with Redmond after City won their Premier League match 2-1 on Wednesday, wrapping his arm around the player and slapping him on the chest, leading to speculation over what was said.
Guardiola told the media afterwards that he simply praised the winger's ability, and questioned why he was not allowed to attack.
"I was telling Nathan Redmond how good he is at the end. Southampton have some super talented players, Redmond is so good one against one," he said.
"But they didn't want to play, they were time wasting from the ninth minute. I just wanted them to play."
Redmond downplayed the incident, insisting it was "all praise" in a statement posted on Twitter, and the FA has now opted against punishing the 46-year-old.
That means that Guardiola will be able to take to the touchline for his side's derby clash with Manchester United this Sunday.
City are currently eight points clear of Jose Mourinho's men, having defeated West Ham United 2-1 at the Etihad Stadium last weekend.