UEFA Champions League
Partey's Atletico Madrid to face Baba's Chelsea in Champions League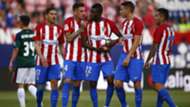 There could be a Ghanaian showdown on our hands when Atletico Madrid take on Chelsea in the group stage of the Uefa Champions League.
The two teams, with Thomas Teye Partey and Baba Rahman in their respective folds, have been pitted against each other in Group A, alongside AS Roma and Azerbaijani side Qarabag by the draw conducted on Thursday.
Despite news that Baba will stay - at least until January - at Stamford Bridge to fight for his place, the anticipated Ghanaian matchup may not see the light of day as the recuperating left-back is unlikely to be named in the Blues' squad for the group stage over fitness concerns.
Even if he does make the list someway somehow, the former Augsburg man is not expected to regain full fitness by September 12 and 13 when matchday one takes centre stage.
Partey, however, will be in full contention for an unlikely starting place, in the absence of an injury, if he remains with Diego Simeone's side following rumours of a possible move away this summer.
Elsewhere, Anderlecht will have two Ghanaians to choose from when they take on Bayern Munich, PSG and Celtic in Group B.
French-born Dennis Appiah and 19-year-old Emmanuel Adjei Sowah are available for the Purple and White, and with both being right-backs by trade, it will be interesting to see who gets the starting nod, even if Appiah remains the overwhelming favourite.
A huge cloud of uncertainty hangs over Kwadwo Asamoah's future at Juventus, with a reported move to Galatasaray on the cards. 
If he does stay at the Allianz Stadium, albeit unlikely, he faces stiff competition from Alex Sandro when the Old Lady square off against Barcelona, Olympiacos and Sporting Lisbon in Group D.