PSL
Paez reveals Kaizer Chiefs' plans for next season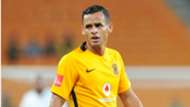 Kaizer Chiefs striker Gustavo Paez is looking to score at least 10 goals next season.
The Venezuelan forward netted five goals in all competitions in his first four months with Amakhosi.
"Next season I want to score at least 10 goals," Paez told the club's website.
"I think that's a realistic target, considering I scored five times in half a season," he continued.
Paez hopes to win trophies with Amakhosi next season following the team's trophless 2016/17 campaign.
"I am disappointed we couldn't win a trophy this season but we definitely plan to win trophies next season. We had 11 draws. That's too much," Paez indicated.
"We should turn these draws into more wins. We have done well at home this season, not losing a single game," he added.
"But we need to be more effective when playing away," Paez concluded.