England
'Outrageous' to claim England players don't care – Southgate
England manager Gareth Southgate has said that he finds the notion that his player don't have passion to play for the country as "outrageous". 
His side struggled to defeat Malta on Friday, scoring three times in the closing stages to secure a 4-0 success, and on Monday tackle Slovakia at Wembley in a fixture that will be pivotal for their hopes of World Cup qualification. 
Three Lions 13/5 to beat Slovakia -2 handicap
On the eve of that clash, Southgate has defended a supposed lack of passion his players have for the team.
"The notion the players aren't proud to play is outrageous really. They're unbelievably proud to play," he said.
"Yeah, they might not play as well as they'd like to sometimes, not converting all their chances, but there's no one not giving their 100 percent."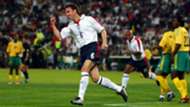 Having played 57 times for his country between 1995 and 2004, the former centre-back believes it is a line that has been pedalled for too long.
"It's the same narrative I heard when I was playing. I'm able to contextualise and rationalise it. Every England team I played in, the lads could never quite get their heads round why that was. Maybe we had bad days when I was playing," he said.
"Maybe it looks as if you can't get to things, you're not as sharp, so people perceive you're not trying. The easiest, basest reaction is to say: 'They don't care.'
"More often than not, players have cared too much, been wrapped up in the experience too much and not been able to give their best for that reason.
"Having worn the shirt, that's where I think I can bring some context to it. It's not about 'not caring'."
Defeat on Monday would leave England second in Group F and in danger of missing out on Russia 2018 next summer.