Mexico
Osorio invests in injury replacements for Mexico national team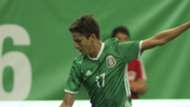 CUERNAVACA, Mexico — Juan Carlos Osorio likes his options.
The Mexico coach has had to dig relatively deep to figure out how exactly he wants to line up against Costa Rica when the teams meet in a clash of the top two teams at this early stage of the Hex. Injuries to Hirving Lozano, Jesus "Tecatito" Corona, Javier Aquino, Giovani dos Santos and Marco Fabian not only have knocked out his top wingers but also put the next logical options out of service.
Chicharito must put record behind him
This week, as Mexico has trained in this city more than 40 miles from the Estadio Azteca to avoid the worst effects of the high altitude arriving at the wrong time, he and his staff have been able to survey their choices and, in a parable, Osorio said he likes what he sees.
"When someone is going to make a big investment, and you have money for this investment, there are some who go directly for the investment they want to do," the coach said at Thursday's news conference. "Then there are some who weigh the investment, look for options. We're in the second group. We look for those options because we believe and we have confidence in those options."
"Those of us, the coaching staff of Juan Carlos Osorio, we look who is there to replace Hirving or Jesus Corona, "El Tecate" who normally plays there. In this call-up there are five possibilities, and they're all really good," Osorio continued. "Every one offers something different for us to use. So, when we try them out during the week in the training session, looking, fortunately there are two in each position to take this decision definitively."
While there have been individual absences felt by Mexico since Osorio's tenure started in late 2015, he's yet to be this hard-hit by absences - injuries or otherwise. In addition to the injuries to his wingers, midfielder Andres Guardado will miss both qualifiers this month because of a leg injury and defender Diego Reyes is suspended for Friday's match because of yellow card accumulation.
El Tri expects resolute Costa Rica
The manager said he could name a quality starting XI were he forced to do so Thursday afternoon, before the team trained in Cuernavaca for the final time before heading to the capital for Friday's game. But, as he noted, he doesn't have to.
"As is our custom and normal practice, in the afternoon session we're going to try two or three options more before we finalize our plans for this game," said Osorio, who noted that he has one or two decisions left to make as of Thursday afternoon.
That in itself is interesting. Scoring against Costa Rica doesn't happen easily, and Osorio also said he's a bit worried about the possibility of the Ticos' fast forwards hitting on the counterattack. The options he mentioned, though, and the fact that there are only one or two decisions left to make bring up good questions.
Jurgen Damm, who is in good form with Tigres and has gotten playing time from the Colombian coach before, could work as a direct replacement for Corona and/or Lozano. More likely, though, Osorio will tweak his formation against Costa Rica's well-drilled 5-3-2. Jonathan dos Santos could be a direct replacement for Guardado in the middle, especially if the manager elects to play three at the back himself. But that could flex Damm into an unfamiliar wingback role on the right side, with Miguel Layun running up and down the line on the left.
Osorio thrives off of these situations, though, tinkering and tweaking to what he believes is the best possible lineup to face the opponent in front of his team. This time he's investing in the ability of the players in his squad. Friday night we'll know whether those investments, well-reasoned though they might be, will pay off.