Manchester United
No use crying over spilt milk: Lukaku & United move on from derby defeat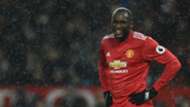 After the desperation and recrimination came the first step on the road to redemption. Manchester United's 1-0 victory over AFC Bournemouth at Old Trafford will not live long in the memory for anyone who was present, but the simple fact they got back to winning ways three days on from Sunday's derby loss to Manchester City was all that was ever going to matter.
The last few days have been full of talk about parking buses, set-piece blunders, dressing-room clashes and the distinct inability of Jose Mourinho's side to leave a single impression on their noisy neighbours until the Portuguese was doused in milk and water by the visitors long after the game had finished.
Bournemouth's visit was never going to represent anything other than a must-win fixture for the sake of psychology as much as any lingering title hopes, but for Romelu Lukaku there was a personal mission to complete too. His pair of defensive mistakes against City had been the defining factor in the 2-1 loss, and his run of just two goals in 14 matches had seemingly started to weigh on his mind.
That he should net the only goal felt almost pre-ordained, and there was a sense of relief from the 24-year-old when he scored, rather than jubilation. He broke the deadlock in the 25th minute, heading powerfully home from Juan Mata's left-wing cross, after Anthony Martial had barged through Adam Smith as though he were not there.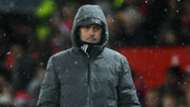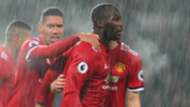 Far from letting out any roars of celebration, the Belgian hardly moved from the spot and repeatedly bowed his head, perhaps determining that the same fans who ironically cheered an earlier clearance – clearly still with his two derby errors in mind – were undeserving of a share of his affections.
In treacherous wintery conditions, United could easily have conceded on multiple occasions in the first half alone, David de Gea making key saves from Charlie Daniels, Dan Gosling, Junior Stanislas and Ryan Fraser as the Cherries showed they fancied their chances of feasting on United's post-City carcass.
But United rallied enough to win the match, even if they were hanging on at times by the end. There were positive performances too from the returning Luke Shaw and midfielder Scott McTominay, who was making only his second Premier League start. Marcus Rashford's introduction on the three-quarter mark also helped to breathe fire into them on a bitter night.
This was the kind of game United would have drawn last season, but they have managed to find their mojo in just such fixtures this time around.
And while it might take more than a 1-0 win over Bournemouth to get Sunday's disappointment out of their systems, they've at least taken the first step on the road to recovery.