Australia
'No room for error'- Andrew Nabbout's push for a Socceroos spot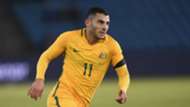 As far as seasons go, it's been a pretty unforgettable one for Andrew Nabbout and he hopes to cap it all off with selection in the Socceroos World Cup squad.
The 25-year-old attacker made his national debut in March starting both friendlies for Australia against Norway and Colombia.
It was a busy month for Nabbout with a stellar year for Newcastle Jets rewarded with a move to Japanese giants Urawa Reds.
Out to establish himself at a club he describes as the biggest in Asia, Nabbout admits earning selection in Bert van Marwijk's squad will require both play time and consistency.
"The good thing is what they want now from the players is to be playing regularly," Nabbout told Optus Sport.
"We (Urawa) are going to be playing a lot of games here and I have to keep my form going into the World Cup.
"I've just to keep the ball rolling, I can't slack off. I can't get complacent at all, I have to keep working towards that spot.
"And there's a fair few players in contention, so there's no room for error or complacency."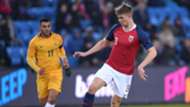 Nabbout is yet to start for Urawa but has featured four times off the bench for the J-League club who currently sit 12th in the league.
The Aussie will have to earn his first start under a new coach too with the man that brought Nabbout to the club, Takafumi Hori, fired earlier this month and replaced by Brazilian Oswaldo Oliveira.
Despite those club dramas, Nabbout is still spurred on by his two appearances for the Socceroos and believes he's already a better player for it.
"Just walking into the change room for the first time and seeing my jersey hung up there was massive," he said.
"It was emotional. It's something you work towards your whole career. 
"I only found out I was starting two hours before the game, they don't give you much time to get nervous or anything, which is good. And then to find out I was starting the second one as well, it means the coach was interested and keen to see me play.
"Just to be in that camp made me a better player, confidence just grows being in there."