Liverpool
No festive feeling for Liverpool as they drop points and out of the top four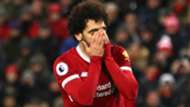 First up in a week to delete, Sam Allardyce unapologetically admitted his responsibility as Everton manager was to "frustrate" Liverpool. Three days later, Alan Pardew described West Bromwich Albion's priority at Anfield as "being disciplined and not opening the game up".
And so, in his side's last two home games before Christmas, Jurgen Klopp watched as they crashed into purpose-built, blue-and-white walls.
The Reds toiled and tinkered in Sunday's 1-1 Merseyside derby draw followed by a midweek stalemate against the Baggies, without applying the executioner touch that had exterminated Stoke City, Brighton and Spartak Moscow in recent weeks.
Not even Mohamed Salah, so accustomed to being the difference, could conjure the clinical edge desperately needed.
Liverpool created enough to comfortably win both encounters, despite being atypically poor in the first 45 against West Brom, but are now looking up at the top four rather than sitting amongst them.
It is why, despite 'Merry Christmas Everyone' by Shakin Stevens trumpeting through the tannoy after the final whistle on Wednesday night, there was an absence of festive feeling for the Reds.
The four points ceded would've put the Merseysiders level with Chelsea in third and within three of second-placed Manchester United. Instead, they are sandwiched by Tottenham and Burnley on goal difference, with Arsenal only one adrift.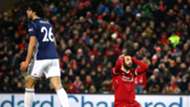 Liverpool were authoritative against Everton, but awfully anaemic in ousting Pardew's obstructive gameplan.
"First half, it looked a little bit stiff, the timing of the movements was not the way it should have been, passing was not that good, a little bit too late, not quick enough," Klopp lamented.
"It was kind of a static formation very often; they had their formation and for us it looked a little bit difficult. But even in that half, we had three or four not-too-big chances, I would say, and two chances we already scored off this season.
"The second half was better, we changed the system a few times and tried to bring them more trouble, which we did. We had good crosses, good chances and scored a goal which was disallowed.
"Obviously it was not a night for 3-0, 4-0 or 5-0. If you don't score early, that was clear. We were ready to work hard for this one moment, but it didn't happen so that's what we now have to accept. If you don't score in football, you always have to accept the result."
Liverpool did put the ball in the back of the net, but Dominic Solanke was adjudged to have handled it on the way in - a call Pardew labelled "brave to make in front of the Kop, but the right decision".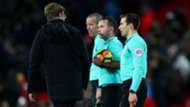 His counterpart was far from as certain.
"I'm still not sure if the hand touched the ball or not," Klopp said. "For me, it looks like chest. In the game it looked 100 per cent like chest.
"Afterwards, when I had a few replays, yes, there's an arm, but I'm not sure if he touched the ball with his arm. It's not on purpose, for sure not. It must be a really good assistant, the assistant made the decision. He will be happy probably if there was a hand involved."
The German was widely criticised for not fielding the 'Fab Four' - Philippe Coutinho, Roberto Firmino, Sadio Mane and Mohamed Salah - from the start in the derby, but they were off-key against the Baggies.
Klopp is acutely aware that striking the right balance between freshness and rhythm can be a tough conundrum to decode. But he will also know the back-to-back draws are a product of poor decision-making in the final third and two big officiating calls rather than an issue of quality or any other deeper-lying problems.
As witnessed in quite explosive fashion, there are obviously goals in this Liverpool team – plenty of them too – and after the destruction at Tottenham, they have solidified defensively.
What will comfort Klopp is that there are no shortage of fixtures to right the wrongs of the past two games.
Victories need to be rotated back in sharpish regardless of who makes Liverpool's starting line-ups.