Real Madrid
NIVEA MEN Deep Insights: Lucas Vazquez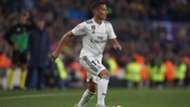 Real Madrid's form has started to pick up dramatically in recent weeks, as the European champions have begun to rediscover their swagger under interim coach Santiago Solari.
Wideman Lucas Vazquez — one of the squad's unsung heroes — has done enough to suggest that he can play a key role on Los Merengues ' revival following Julen Lopetegui's brief tenure.
 Lucas Vazquez is one of the Real Madrid stars featured in NIVEA Men TV advert
The 27-year-old has demonstrated his quality in glimpses this term; he was unfortunate to have been on the losing side during the shock home defeat by Levante, and contributed an assist during a fine display in the 2-1 victory over Viktoria Plzen on October 23.
Since Solari's appointment, Real have rediscovered their goalscoring touch.
They've scored 15 goals in their last four appearances in all competitions, notably smashing five past Plzen in the Champions League and thumping lowly Melilla 4-0 away in the Spanish Cup.
Their form has also improved dramatically in the league, with Real Valladolid dispatched 2-0 at home at the beginning of November.
On Sunday, they again demonstrated their clash to smash Celta Vigo 4-2 away, with key men Karim Benzema and Sergio Ramos returning to the fold.
Lucas Vazquez | 2018-19 La Liga stats
Indeed, as he has been for much of his Real career, Vazquez was something of an unsung hero in this match, yet he played an unheralded role in wide areas as Real stretched and tormented their opponents.
While Vazquez didn't make a decisive contribution, he demonstrated again how his selfless play, work rate and pace give balance to a team that can, at times, appear top heavy.
In Solari's system, the widemen are expected to contribute defensively and offensively, and certainly the disciplined and aggressive Vazquez can be a key asset in this regard.
He also showcased his versatility when asked to drop deeper and step into an unfamiliar left-back role late on, and it's this kind of willingness to adapt that should make the 27-year-old a popular figure under Solari.
However, anyone who saw the winger under Zinedine Zidane last term knows that there's much more to come from him than primarily acting as ballast for the team's bigger names.
Last term, Vazquez was one of the team's key creative outlets, notably contributing seven assists in the top flight.
He also weighed in with four goals, but it was his ability to feed Cristiano Ronaldo, Karim Benzema and Gareth Bale that made him such an asset for Zizou.
Most impressively, perhaps, his contributions came from just 16 starts, with the wideman making a further 17 appearances off the bench.
The season before, he again demonstrated his quality as an impact substitution, contributing another seven assists with 21 of his 33 appearances coming from the bench.
Certainly, Vazquez's contributions vindicated Real's decision to insert a buy-back clause in the deal that took him to Espanyol, and then to subsequently bring him back to the Bernabeu.
Bringing him back for a fee of €1 million was a smart bit of business, and Vazquez returned to the club a hardier player—and hungry to prove himself with Los Blancos .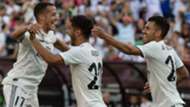 There was an expectation, when Vazquez returned to Real, that his natural ability on the right would free up Bale to thrive in his preferred left-wing role.
With Ronaldo having departed, and with Vazquez firmly in favour under Solari, expect Bale to again begin to hit the heights over the coming months.
His work rate has always shone through, and it's this quality, perhaps above his footwork, dribbling and technique, that will ensure the Galician will be a big part of the rest of the European champions' season.
His form last term earned him a spot in Spain's World Cup spot, and while Vazquez can certainly hope for more honours with La Roja as they return to top form, his priority in the short term will be on playing a key—if unheralded—role in Real's renaissance.