Opinion
Nigeria sanction reeks of incompetence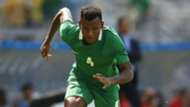 ---
COMMENT
---
When Nigeria took to the field to play Algeria in Constantine, qualification for the World Cup had been secured with the Zambia victory, yet what most didn't know was a decision to field an ineligible Abdullahi Shehu would come back to bite the Super Eagles in the backside. 
Having accumulated a couple of yellow cards (against Zambia and Swaziland) the full-back was apparently suspended for the dead rubber, but the Nigeria Football Federation and Gernot Rohr were none the wiser, and FIFA have duly acted to award the Desert Foxes a 3-0 win instead of the 1-1 draw.  
Depending on what side of the divide you're sat, you're either going to brush this aside, as a consequence of the Super Eagles already securing their participation in next year's extravaganza irrespective of the reversed result, or you'd be pulling your hair out due to the NFF showing so much incompetence in dealing with the situation. 
It hasn't turned out to be fatal, but how the Federation failed to communicate the player's suspension to Rohr surely means someone has to answer for the glaring show of ineptitude that's put the West African nation under the spotlight and left everyone involved with egg on their face.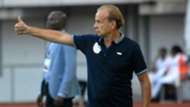 The player in question can't be left out of the criticism, too, although the Anorthosis Famagusta man can't be made the scapegoat in this very blatant case of maladministration. Modern football players are often oblivious to the rules and the full-back fulfilled his basic professional obligation of playing when called upon. 
Nigerians will look to the heavens and be thankful what befell Barbados in 2015 has been avoided in their case. Having secured a 3-0 aggregate victory against Aruba in the CONCACAF second-round qualifying round, the decision to play Hadan Holligan (who had received yellow cards in two previous games) proved fatal for the East Caribbean nation, as the second leg 1-0 win was forfeited and the Arubans progressed in their stead with a 3-2 aggregate victory. 
Nigeria can breathe a huge sigh of relief having avoided further punishment. Having worked so hard to secure qualification, it'll have been extremely disappointing to miss out if the reversed result against Algeria proved costly. 
The country must move on, but adequate measures must be put in place to prevent a reoccurrence, because the West Africans may not strike lucky next time.