Premier League
'Neymar is my role model' - Meet David Olaoye, the ambitious Englishman making history in Argentina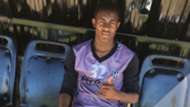 The bustling commercial centre that surrounds Lanus train station is an unlikely place to meet two budding professional footballers from Romford. The suburb to the south of Buenos Aires is hallowed ground for the sport in Argentina; Diego Maradona juggled his first mandarin in the Villa Fiorito shanty town close by, while ex-Roma and Inter star Daniel Osvaldo also calls the neighbourhood home.
Local club Lanus also captured the hearts of the city this year with an heroic run to their first Copa Libertadores final, although their dreams of the title were shattered by Gremio. But another sort of history was made in 2017 just around the corner. David Olaoye made his debut for El Porvenir in the fourth-tier Primera C against Berazetegui, becoming, in the process, the first-ever English national to play professionally in Argentina.
Is David England's answer to the likes of Ossie Ardiles and Ricky Villa in breaking down the barriers between the two notorious football rivals? For now, the 21-year-old already has an idol in mind.
"I'm a left winger, forward, and I'd like to compare myself to Neymar," he explains to Goal in a cafe opposite Lanus station, as commuters and shoppers brush past on the teeming streets outside. David is accompanied by Daniel, his brother and fellow professional enjoying the Argentine spring sunshine after a season in Sweden. The comparison to Brazil's superstar provokes a complicit laugh from his sibling; the pair have a strong bond, and speak every day via phone and messages. Both are no strangers to travelling for their trade: the siblings played together in Greece before fate – and the nature of globalised football – saw them separated. In David's case, his next move would break new ground.
David landed in Buenos Aires at the behest of Mariano Goyena, a Lanus-based agent. Introductions were made by former Newcastle United and Peru star Nolberto Solano, and the youngster moved halfway across the world without speaking a word of Spanish and in the hope of finding a club. After several trials El Porvenir, a tiny club based in Gerli, a stone's throw from Lanus, took him on and offered a two-year contract. "I got a free transfer from my old club in Slovenia, I felt like it was a place where my football wasn't really going to develop," he explains.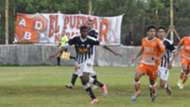 "Here in Argentina people are crazy about football, I really like it here and I wanted to come here. I had never heard of El Porvenir before arriving, but they have received me well. When I first came I did not speak any Spanish at all so it was hard to fit in but now they make jokes and make me feel part of the team. I'm living in club digs, it's ok but a little boring at times – my team-mates speak very little English but I'm picking up Spanish from them. I quickly learned hijo de puta; I hear it a lot at the stadium on gamedays!"
Argentina is a country where ideas of political correctness and sensitivity have been slow to take hold. That is evidenced in the nickname handed to David on his arrival: "They call me El Negro", he laughs. But the youngster insisted that any flak he has received for his colour he has quickly been able to brush off. "I've had no problem, no problem. If someone says something to me that's not really nice or racial it doesn't affect me at all. It happened to me in Greece too and it didn't affect me, I just laugh it off."
The player's debut in Argentina, while an historic moment, was a rather low-key affair. David came on for the last five minutes of El Porvenir's 1-1 draw away to Berazetegui on November 29, after months of wrangling over his immigration status delayed his introduction into the first team. But he is already looking beyond Gerli, setting his sights on making it in the world's elite sides.
"My main goal in Argentina is to play in the Primera Division, before I even think of leaving. From there to England, or another top country. Here I want to play for Boca, and over there for Manchester United," he explains.
"Neymar is my favourite, favourite player, I'm always looking at him and what he does for PSG, and see what I can bring over into my game that will make me improve as a player. The Primera C is probably around Conference level in England, Primera could be Championship, maybe Premier League, but here it's much more physical, the tackles hit hard, but in Primera some football is played too. My heroes? Ronaldinho or Brazilian Ronaldo, out of the Argentines Messi and Maradona."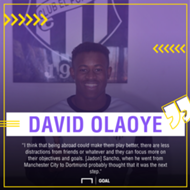 David and his brother Daniel are something of an anomaly in the world of English football. Players from the country are notoriously reluctant travellers, especially compared to their globe-trotting Argentine and Brazilian contemporaries. He admits that being away from his family is tough, and is clearly revelling in his sibling's visit after months of separation.
Despite those difficulties, however, and the extra challenge of overcoming the language barrier, he believes that experiencing football in a different country is something all young English players should consider.
"I think the idea of missing your family and being far from home discourages people from going away. It's a shame because they could have the chance to develop their careers even more," David explains.
"I think that being abroad could make them play better, there are less distractions from friends or whatever and they can focus more on their objectives and goals. [Jadon] Sancho, when he went from Manchester City to Dortmund probably thought that it was the next step for his career, he wouldn't be playing in the first team for City right now.
"It's the next step in his career in another big club and I think more players should look into it. If you then do well then a club in the Premier League or Championship will want you, that's football."