Simba
Nduda unhappy with backup role at Simba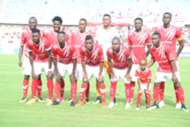 Simba's goalkeeper Said Mohamed 'Nduda' has admitted that he is unhappy serving as backup to Aishi Manula.
Nduda has not played for Simba since he joined the club from Mtibwa Sugar early this season because of a finger injury he sustained during pre- season in the Republic of South Africa.
Nduda who won the best goalkeeper in the COSAFA tournament last year told Goal that he does not want to stay on the bench because he fears dropping his performance and losing his spot in the national team squad.
"I'm really disappointed by the technical bench because they didn't give me a chance to play although I am physically fit after recovering from my finger injury," said Nduda.
The goalkeeper however, hinted that he would rather fight for first-team chances at Simba than force a move elsewhere.
Simba have five matches to go before the season ends and there is even slimmer chances for Nduda to feature before the season ends.