Radja Nainggolan
Nainggolan winds up Juventus fans after Champions League loss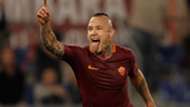 Radja Nainggolan mocked Juventus fans after their defeat to Real Madrid in the Champions League final on Saturday.
Ronaldo & Real are once in a generation
Juve took on Zinedine Zidane's side in Cardiff in their second final in three years, looking to win the competition for the first time since 1996.
However, two goals from Cristiano Ronaldo and one each from Casemiro and Marco Asensio saw the Spanish side retain the title with a 4-1 win.
While Juventus players and fans were devastated, Nainggolan was delighted as it gave him the chance to wind up his rivals, despite his Roma side finishing second to them in Serie A.
"What a wonderful evening," said the Belgian on a video on Instagram.
"I'm with the national team, unfortunately others are already on vacation. There are those who are on retreat, some on holiday and those who had a day trip to Cardiff.
"I made this video to reply to some who insulted me and talked before the game - you don't do that. You never talk before the event.
Griezmann confirms Atletico stay
"I just wanted to see if the same people who said those things would reply to me now. I made this video for the Juventus fans, but maybe it's too expensive to be connected from this distance. They already spent so much during the game.
"Three days ago you were bigging yourselves up, so what do you say now?"