KPL
Muhoroni Youth boss Moses Adagala keeping KPL dream alive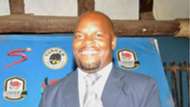 Muhoroni Youth chairman Moses Adagala is adamant that his side will be reinstated to the Kenyan Premier League.
Muhoroni Youth were relegated to the second tier at the end of 2017 season after a poor season in the KPL.
The club, however, protested their drop their relegation and reinstatement earlier in 2017 which they argued destabilised their rhythm leading to the woeful run in 2017.
As such, Muhoroni moved to court seeking reinstatement back to the top tier.
The team was further relegated to the third tier by Football Kenya Federation for failing to honor three NSL matches in a row and now the future of the club rests with the court.
"We will get justice. We have a very solid case in court and I believe the court will grant us justice. Muhoroni Youth will play in the Kenyan Premier League again, I am very sure about that," Adagala told Goal.
Adagala is open to the fact that their wish may not be granted by the court but says his team will not by any circumstances play in the third tier.
"I know the court can decide that we play in KPL or NSL but one thing I am sure about is we will not play in Division One league, that will never happen."
The case challenging their relegation from KPL is currently under the High Court in Kisumu.