International Champions Cup
Mourinho's moans show Klopp's Liverpool will be a genuine threat this season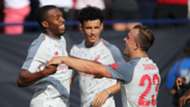 It may be pre-season, but as far as Jose Mourinho is concerned, the battle has well and truly started. And as usual, he's taking on just about everybody.
A friendly? Between Manchester United and Liverpool? Dream on! Whether in Manchester, Merseyside or Michigan, when these sides meet, it matters. 
Here, more than 100,000 supporters turned out to watch the latest installment of English football's greatest rivalry, and they did so at Michigan Stadium, the largest in America.
'The Big House' in Ann Arbor really is some venue, and it played host to a decent spectacle too, one played with pace and intensity. Mourinho had described it as "Liverpool's first team against United's kids" pre-match, but it was a good watch nonetheless.
Liverpool were deserved and clear winners, the game illuminated by Xherdan Shaqiri's remarkable debut goal; some way for the Swiss star to announce himself to his new audience. Liverpool most definitely saved the best for last, in that regard. United, meanwhile, were United in name only. 
The game will also have confirmed Mourinho's suspicions ahead of the new season; the threat from Anfield is a live one, to be taken very seriously indeed.
He may be abrasive but he's certainly no fool, and if he's talking about you then it should be taken as a compliment. It means he's noticed you, it means he respects you.
It means he's worried.
Klopp certainly thinks so. At his pre-match press conference, the Liverpool boss pumped his fists jokingly when told that Mourinho had been speaking about his side once more. "It's not easy to reach that point, eh?" he smiled. He knows his team are making inroads. There's been a spring in his step this summer; he feels he has a team, or rather a squad, that can challenge.
Mourinho, by contrast, has taken a rather less positive approach. He has repeatedly voiced concerns over the quality of his squad, and continues to worry about players returning late from World Cup duty. "We are in trouble," he told a TV reporter, pre-match. Two weeks before the season starts, that is not a great place to be.
Still, he found time to throw a punch at Liverpool in the same short interview. "They haven't been able to beat us in two years," he stated. "Today they will feel they have a chance to." 
They did, comfortably in the end. They looked a team together, happy, prepared. A contrast indeed to their opponents.
The United boss has a problem with the way Liverpool, and perhaps more so Klopp, are portrayed in comparison with his own side. He believes them to be media darlings, over-hyped and over-praised. Klopp, he believes, gets an easy ride from the press, who he feels are overly critical of United.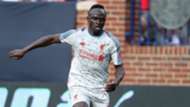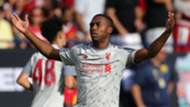 He also knows, though, that the Reds are building something impressive, that their team is improving and so is their squad. United were the second best team in England last season, according to the Premier League table, but Liverpool often played like it. They should, given the signings they've made this summer, be even better this time around.
United, meanwhile, remain in need of an injection of quality. Mourinho has made transfers of his own - Fred, the Brazilian midfielder, appeared as a substitute here - but wants more. Harry Maguire and Ante Rebic are reportedly on his radar. Neither would be the most inspiring purchase, if we're being honest.
In his post-match press conference, Mourinho had the room engrossed. He defended his senior players, Alexis Sanchez in particular, and showed little or no concern for his younger men. United, he said, were in America to "surive, to have some not-very-ugly results." His team, he insisted, was made up of players who would not be at the club come the end of the transfer window. "Not even 30 per cent of my squad," he remarked.
Later, he would tell supporters that they had wasted their money coming to watch this game, which his side lost 4-1. "They deserve quality, a good Liverpool, a good Manchester United," he said. "We were not able to give them the real quality football."
He had a message for his board regarding new signings - "I would like to have two more players. I think I am not going to get two. I think that it's possible I will have one. And that one, I gave a list to my club of five names a few months ago. And I wait to see if it's possible." 
These are familiar vibes. We saw them at Chelsea, twice, and Spanish observers will recognise the tone from his time at Real Madrid too. Mourinho did not cut a happy figure. His team do not look like a happy team. These things rarely end well.
The contrast between the sides, and the managers, is a fascinating one. Klopp used his own press conference to deliver another positive message to his squad. He bigged up his young stars, spoke well of the passion of supporters in the USA, and declared himself satisfied with his side's preparations this summer. 
We should avoid reading too much into this one-off game, of course. Pre-season contests should never be held up as a gauge for the campaign to come. United did, it must be said, have the measure of Liverpool in both Premier League meetings last season, and one of Klopp's jobs this time around will be to find a way around Mourinho's massed and supremely well-drilled defensive setup.
With the players he has, he'll fancy his chances. Shaqiri's debut here was promising, while both Mohamed Salah and Sadio Mane were dangerous on their first starts of the summer. Virgil van Dijk's class is obvious, while Adam Lallana is showing signs he can be the 'new signing' he claims he will be. Fabinho, a genuine new signing, will get better, while Naby Keita, who didn't feature here, has looked mightily impressive. To come are Roberto Firmino, Jordan Henderson, Dejan Lovren, Trent Alexander-Arnold and Alisson Becker, the world's most expensive goalkeeper.
Liverpool, make no mistake, are capable of big things. All in all, it should make for a very watchable season. The disruption of the World Cup will be felt keenly at the Premier League's top six clubs - and particularly at United, City and Tottenham. A chance for Liverpool, then, to hit the ground running and put themselves in the frame in the opening weeks.
If they do that, we'll be hearing a lot more from Jose, that's for sure.