José Mourinho
Mourinho considered to have Ferguson qualities by Dutch legend Gullit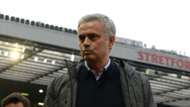 Jose Mourinho is ruling at Manchester United in a similar manner to legendary predecessor Sir Alex Ferguson, says Ruud Gullit.
The Portuguese inherited the reins at Old Trafford in the summer of 2016 with the remit of lighting a fire under an underperforming squad.
He has delivered in his first season at the helm, with Mourinho making history along the way.
An EFL Cup triumph in February saw him become the first United manager to deliver a major trophy in his debut campaign, with even Ferguson unable to match that achievement.
He also lifted the Community Shield and Europa League, while his dealings with senior stars such as Wayne Rooney – who has been phased out of the starting XI – have shown that he is not afraid to make big decisions.
Former Milan and Chelsea star Gullit, who is now assistant manager of the Dutch national side, told Football Focus: "You know what I like about this situation with Rooney, that Mourinho is in power, he decides what is happening, not the players.
"That is what Ferguson did also. He got rid of Jaap Stam - he regretted it, but he got rid of him.
Robson: I think Rooney wants to go
"He also got rid of [David] Beckham when he thought it was right, and I think that is the sign of a great manager."
Rooney is expected to move on when the summer transfer window opens, with the England international admitting to having several options to consider.
There are likely to be plenty of other comings and goings at Old Trafford as Mourinho seeks to freshen up his squad and push United into Premier League title contention next season.