Manchester United
Mourinho can moan all he likes but City are on another level to United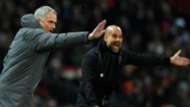 Jose Mourinho has talked himself out of many difficult spots in his time but he won't be allowed to do so again after Manchester United's derby defeat. 
After Sunday's 2-1 loss to Premier League leaders City, he will have to face the music – and it's City calling the tune. 
In the build-up to the top-of-the-table clash at Old Trafford, the Portuguese spoke about the visitors' tactical fouls, and their tendency to go to ground easily. He even took time out to take a swipe at Guardiola's political statements.
As ever, his comments did the trick and dominated the pre-match agenda.
In his defence, Mourinho was correct about the tactical fouls; City commit them to stop fast break-aways. But it is not as if they are the only team to resort to that particular tactic.
As for the diving, City's players do go to ground easily at times, but could anybody honestly say they do it more than your average Premier League side?
Yes, Gabriel Jesus dived at Old Trafford and he should have been booked for simulation. It was a more blatant dive than Ander Herrera's and United fans were unhappy to see the Spaniard booked. But both dived.
City did commit a couple of sneaky fouls in the derby, although, interestingly, their two bookings were not for tactical rule-breaking, but for late, scrappy challenges. 
That is because City usually stop fast counter-attacks by being well organised and physically capable. They don't stop counters just by fouling, as Mourinho would have you believe.
They don't win penalties just by going down under contact, either. They didn't win one today, patently. 
Mourinho controlled the narrative ahead of the game but his influence on the pitch is not equal to his influence over the media. And that is what Mourinho should reflect upon as he stews on a 2-1 defeat.
So far, of course, it's been more of the same. He has said City were fortunate to win - despite having restricted United to just 35 per cent possession.
"Is the title race over? Probably, yes," Mourinho conceded afterwards, before quickly adding, "Manchester City are a very good team and they are protected by the luck, and the gods of football are behind them."
Certainly, the ball broke kindly for the visitors for both their goals and, given we have come to expect nothing but works of art from City, it was certainly strange to see them score from two scrappy set-pieces.
However, Mourinho has called City's goals "disgraceful". He speaks English well enough to know that is not an applicable description. 
Furthermore, there was no mention of Marcus Rashford's goal, which was a tougher finish than either of City's but came from a defensive mistake all the same.
In the same post-match interview, Mourinho insisted Herrera should have had a penalty. He called it a "huge" decision. You may think it was a spot-kick but it was far from a stonewall decision.
But then, Mourinho is just tying to talk himself out of a hole again.
A few weeks ago, he joked his way out of difficult questions about Romelu Lukaku's poor form by saying the striker does not have a boot sponsor. How will he react after the Belgian's performance in this top-of-the-table clash? 
Lukaku has attracted a lot of criticism online - he contributed to both City goals, and failed to find the net himself after seeing his late, close-range effort bring a brilliant save out of Ederson - but the truth is that he had no service; barely anything to work with whatsoever. 
Zlatan Ibrahimovic came off the bench late on, played alongside Lukaku, and had even less of an impact. It proves the point; United created very little and had even less control over the game.
Had Mourinho been asked about Lukaku on Sunday he should have held his hands up and said he played the type of desperate game-plan that underdogs are forced to deploy against better sides. Lukaku was a victim of his manager's tactics.
Maybe United fans are starting to realise the position they are in, too. Even if they won't admit it, it seems to be slowly sinking in.
During the first half Jesse Lingard doggedly stuck to Kyle Walker in City's right-back position and put the ball out for a throw-in. The United fans cheered it enthusiastically, trying to use the intervention to generate a modicum of momentum.
Some of those inside Old Trafford on Sunday would have been present at Goodison Park a few years back when the Toffees' Phil Neville put in a crunching tackle on Cristiano Ronaldo. The home fans roared. They used that as a springboard. 
The Lingard throw-in offered a glimpse of that mentality among United's own fans. It is an underdog mentality. That is what United have been reduced to, against City, at least, and Mourinho is the man to blame. 
Paul Pogba's absence was felt – few could argue against that – but that fact will be lost in Mourinho's various other complaints. Yet Mourinho cannot be allowed to talk his way out of this one. 
City didn't win today because of the referee. They weren't "disgraceful". They're not top of the league by 11 points because they are "lucky", or because they go down with "a bit of wind". Their dominance should not be overshadowed by Mourinho's moaning.
"Last season it was the same – we won here and it was the referee," Guardiola pointed out afterwards. "Today as well. Yesterday [Mourinho] spoke about the referee but we are an honest team.
"We had 75% ball possession, which means we wanted to play. We came here and did that."
Indeed, City are top, by the small matter of 11 points, because they are the best team in the country. By extension, they are better than Manchester United.
Mourinho has rarely been able to get one over on his old rival Guardiola and, on this season's evidence, he is no closer to finding a way. It's the same old approach.
He will use the media to change the narrative but United fans should see through it. In the end, they will realise their standards are being lowered.
Right now, they are good, but not good enough. And that's on Mourinho.