Liga MX
Monterrey's rhythm, final rematch headline Liga MX Jornada 12 Talking Points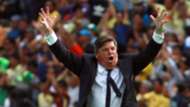 The Liga MX season is like the holidays. You visit one family member who insists on serving a full, celebratory meal. You can't eat any more. You must stop eating. Then a day later you're at another dinner table full of the finest foods, and you stuff yourself full again.
After the earthquake forced Jornada 10 to be postponed, the league returned earlier this week and is back for more this weekend ahead of the international break. 
So, come on! Fill your plate and dig in:
---
Match of the Weekend: Toluca vs. America
---

Miguel Herrera will take in Saturday's game from elsewhere after getting a one-match suspension for his heated reaction to Leon scoring a late winner on his team when two balls were on the pitch at the same time. It's a shame for Herrera, who will likely miss out on one of the best contests of the weekend. Toluca enters the game as the second-placed team in the table with Herrera's America one behind.
Toluca is a different team playing at the Estadio Nemesio Diez with coach Hernan Cristante giving his players a bit more freedom. That's resulted in Fernando Uribe scoring all five of his goals this Apertura at home. There are plenty of other storylines to watch as well, not least of them Rubens Sambueza facing off against the team that cast him aside at the start of 2017. The Argentine has shown there's still plenty of creativity in him, and he'd love to set up a goal against his former team.
America is winless in its last two, with the aforementioned defeat to Leon likely to remain a sore subject for some time for Americanistas. Reversing that will be difficult without midfielder William Da Silva, whose presence in the midfield will be missed because of his injury. 
---
It's a big weekend for ... the leader
---

Monterrey is sort of running away with the regular season at the moment, sitting four points clear of second-place Toluca with a game in hand after Wednesday's suspended match against Santos Laguna. So a trip to face a Gallos Blancos team that is failing to get off the ground might seem elementary. This could be a trap game of sorts for Rayados, though.
Between Wednesday's waterlogged postponement and the Jornada 10 delay after the earthquake, it will have been a full 14 days since Monterrey last took the field when the ball starts rolling at La Corregidora. That much time off and Monterrey's false start during the week has the potential to knock the team out of its rhythm.
Antonio Mohamed will have been working to make sure that's not the case, but we've seen Rogelio Funes Mori wax and wane in previous tournaments. The difference in this tournament is he has Aviles Hurtado not only to help him score goals - where Dorlan Pabon and Carlos Sanchez have helped in the past - but also to combine, playing behind but then moving past Funes Mori when the Argentine holds up the ball.
Queretaro has struggled both to score and to stop opponents from scoring, so Monterrey should be able to add another three points to its impressive total. The game will be more of a mental challenge than a tactical test.
---
Keep an eye on ... Wednesday's fallout in final rematch
---

The two teams who contested the Liga MX final seem a long way from another trip to the deciding game. We talked just yesterday about both Chivas and Tigres and what to take away from the teams' midweek games. Chivas didn't remember there was a match going on until it already was well underway while Tigres escaped Tijuana with a victory but allowed Xolos far too many chances.
With such a quick turnaround, perhaps neither Chivas coach Matias Almeyda nor Tigres boss Tuca Ferretti will be able to impart any grand lessons or even put in many small adjustments in their lineups but players on both sides know they have to do better. Tigres' defense is living on luck and reputation right now, though they don't necessarily see it that way.
"I know my skills. I like to look at the numbers and we're always in the best defenses, so I think I'm still playing at a good level," center back Juninho said. "I do feel like I have to improve, obviously, but I'm still at a good level."
Chivas' title wins are the only things keeping the heat off Almeyda. Chivas have been better away from home than they have at the Estadio Chivas, so perhaps the atmosphere in El Volcan will stir something inside them.
Elsewhere, Pachuca and Necaxa meet after both securing midweek victories. Necaxa was able to dominate Queretaro without much possession and playing the same style against Pachuca may be the way to go. Tuzos let Cruz Azul keep the ball in their contest but were lethal on the counter attack. Rayos must make sure not to let Victor Guzman get the ball with space in transition or they might face the same fate.
---
Quote of the Week
---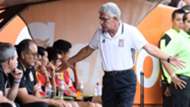 "I don't see it as revenge. We already had revenge in the Champion of Champions. We were able to beat them. It's an opponent we must respect, they're as good as anyone and we can't be confident of anything." - Tigres coach Tuca Ferretti
Something tells us Tuca wouldn't put much stock in that summer Champion of Champions game if things had gone the other way, but apparently the final defeat is water under the bridge.