Mohun Bagan
Mohun Bagan: Tutu Bose's candidates clean sweep elections, Anjan Mitra abstains from casting vote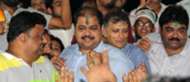 Opposition candidates led by Swapan Sadhan Bose alias Tutu Bose registered a landslide win at the Mohun Bagan elections held on Sunday at the club tent in Maidan, Kolkata. 
Bose had already been elected club secretary unopposed after Anjan Mitra decided to withdraw his nomination on October 3. Bose's son, Srinjoy Bose emerged as the biggest winner as he received 4037 votes out of 4952 valid votes for the post of assistant secretary. 
Mitra's daughter, Sohini Mitra Chaubey, fell flat on her face after Bidesh Bose ran away with the post for youth football secretary with 3584 votes in his favour. 
| | | | |
| --- | --- | --- | --- |
| Position | Ruling Panel Contestants | Opposition Panel Contestants | Votes Received |
| Assistant Secretary | Ashok Guchait | Srinjoy Bose  | 4037 (W) |
| Treasurer | Madan Mohan Dutta | Satyajit Chatterjee | 3753 (W) |
| Financial Secretary | Somenath Banerjee | Debashish Dutta | 3675 (W) |
| Cricket Secretary | Arghya Ghosh | Samrat Bhowmick | 3852 (W) |
| Football Secretary | Debashish Roy | Swapan Banerjee | 2978 (W) |
| Tennis Secretary | Somenath Ghosh | Sanjoy Ghosh | 3675 (W) |
| Athletics Secretary | Kashinath Das | Debashish Mitra | 3489 (W) |
| Hockey Secretary | Sailendranath Ghosh | Mahesh Kumar Tekriwal | 3687 (W) |
| Ground Secretary | Deshapriya Mallick | Uttam Kumar Saha | 3455 (W) |
| Youth Football Secretary | Sohini Mitra | Bidesh Basu | 3584 (W)  |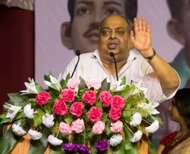 Both Srinjoy Bose and Debashish Dutta were overjoyed at the overwhelming support that they received from the club members. Dutta confirmed that Haitian winger Sony Norde has come to stay and will sign in a next few days. 
"People have sky-high expectations from us. We will try and fulfil their expectations with all our strength. People have spoken against the disrespect shown to us. Now we have to talk to coach Sankar Lal Chakraborty and extend him every support so that the team performs well in I-League.
"And as far as Sony Norde is concerned, he will sign for Mohun Bagan in the coming week, maybe on Wednesday. We also have to ensure that Mohun Bagan plays in Indian Super League (ISL) from the next year," said Debashish Dutta.
"This win is a reply by the club members to all those who disrespected Tutu Bose. I have received the highest number of votes but I think since they could not vote for my father (Tutu Bose) they all voted for me to show their support and loyalty to father. I strongly believe that if father had contested elections then we would have won by larger margins. 
"We have a tough road ahead. The club finances are not all in good shape. I-League has already started. We must do well in that. We have been voted to power by the members and now it is time to repay their trust and love they have showered on us," stated Srinjoy Bose after the win.
An executive committee meeting has been convened at the club premises on October 31 to decide a route map for Mohun Bagan which will be chaired by Tutu Bose.