MLS
Ireland international Doyle retires due to concussions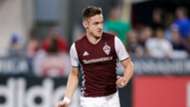 Ireland international Kevin Doyle has announced his retirement, citing lingering symptoms from concussions.
The 34-year-old Colorado Rapids forward revealed his decision Thursday, ending a 15-year professional career that included stints in Ireland, England and the United States.
Doyle, who has scored 14 goals in 64 international appearances, had been named to the Ireland squad summoned for upcoming World Cup qualifiers against Moldova and Wales.
"Today I'm sad to announce that after listening to medical advice I will play no further part this season and will be retiring," Doyle said in a statement on Twitter. "This year it has been clear to me that heading the ball was becoming problematic and causing me to have repeated headaches.
"Two concussions this season and numerous others over the years have made this more concerning. After consulting the experts in this field, it has been decided that to avoid the possibility of these symptoms becoming more serious and permanent, I will be hanging up my boots for good."
Statement on my retirment pic.twitter.com/3dTXdk4EXU

— Kevin Doyle (@KevinDoyle1983) September 28, 2017
Doyle began his career with Irish sides St Patrick's Athletic and Cork City before playing in England from 2009 to 2015 during stints with Reading, Wolverhampton, Queens Park Rangers and Crystal Palace.
The striker had recorded 17 goals and eight assists in 75 MLS matches since signing with Colorado as a designated player in March 2015. Doyle had five goals and four assists in 25 appearances this season but had not appeared since exiting with a concussion in the 27th minute of a 3-0 loss to the LA Galaxy on Sept. 2.
"I will take this opportunity to thank everyone who has supported me during my career, especially my family, all of the coaches and teammates I've had and the fans of any team I've played for whether in Ireland, the UK or the USA," Doyle said.
"I'd also like to thank the staff and everyone involved with Ireland during my 12 years in the national squad, they have always been supportive and for that I'm very appreciative."