MLS
MLS Cup Spotlight: Cristian Roldan has evolved into fierce young leader for Sounders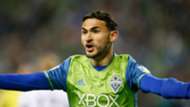 TORONTO — The story of Cristian Roldan's 2017 season isn't about the fact that he improved considerably as a player, or that the 22-year-old Seattle Sounders midfielder played at an MLS Best XI-caliber level. No, the story of Roldan's breakout season is about how a young player has managed to emerge as a leader on a championship team filled with stars and veterans.
Roldan's 2016 season, just his second as a pro, was in itself a breakout season, as he emerged from bench option to reliable midfield sparkplug playing alongside all-stars like Nicolas Lodeiro and Osvaldo Alonso. As good as that season was, Roldan has blown it away in 2017, improving in all areas of his game.
"I would say it's the natural evolution of a player who is super dedicated, super fit, serious about his craft, and just wants to be part of a successful team," Sounders head coach Brian Schmetzer told Goal. "The kid's drive to win is tremendous."
It was that drive that led him to take on a bigger role this season despite being one of Seattle's youngest players.
Watch MLS live and on-demand with fuboTV (7-day free trial)
"I think I had to become a leader this year," Roldan told Goal. "When you become a leader you aren't afraid of making mistakes. Some guys, younger guys especially, that come into the league, once they come in and become starters they're still a little timid and still a little afraid to make mistakes on the field and really play your game.
"A lot of responsibility fell on my shoulders," Roldan added. "A lot of players went down. I had to play as a six this year, as a 10, as a right back, so I led in several ways. I led by example and vocally I felt like I was more vocal this year and I'm very proud of that because a 22-year-old coming into the locker room we have is really tough."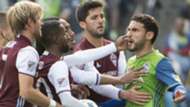 Roldan is one of a handful if highly-impressive youngsters making inroads at an earlier age than we're used to seeing for American players. Players like Christian Pulisic, Weston McKennie and Tyler Adams. Roldan is older than that trio of teenagers, but he has drawn inspiration from seeing other young Americans thrive and be fearless.
"You see guys like [Christian] Pulisic, who are playing at an all-time high because of their confidence," Roldan said. "So I think now, being a leader, having that confidence of not caring what people think and playing my game has helped me this year."
Roldan's evolution into a young leader on the Sounders has been a natural one, with his veteran teammates clearly impressed enough to embrace him in that role despite his age.
"For us, Cristian is very important," Lodeiro said. "He covers so much ground, plays in all the positions, he's very supportive on the field and has a bright future. Above all, as a person he's a kid everybody cares about. He's very humble. He deserves everything that's happening to him because he works hard and is very humble so it makes you happy to see him continue to grow."
Sounders goalkeeper Stefan Frei added: "He's starting to be my go-to guy when I want things to be on player's minds. For example, when we're in Houston and we have Nico and Cristian on yellows, he's the one that went to and told him, 'Listen, it's your responsibility to make sure you don't get a second yellow.' That funny video of him dragging Nico away that isn't a coincidence. That's playing smart. We don't want to shoot ourselves in the foot. I knew that he would carry that responsibility as a young guy. It shows how smart of a player he is."
In 2016, Roldan played the complementary role in the Sounders midfield to a tee, serving as a reliable outlet for teammates who could get the ball to Seattle's attacking stars. This year, he became much more aggressive on both sides of the ball, showing more of a desire to get into tough challenges defensively, while getting more involved in the attack.
"I think last year I tried to keep it simple, one-two touches," Roldan said. "I defended for others, but then I realized I was fit enough to play box to box, get into the box at times and pick and choose the best times during the game. That's definitely part of my game that has improved and next year I want to add a couple more elements to my game."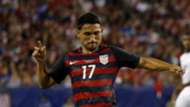 Roldan's growth as a player earned him his first call-ups to the U.S. national team this year, and while he didn't earn much playing time, he did come away even hungrier to show he deserves more opportunities.
"Being on the bench for those games totally motivated me," Roldan said. "I came back and I was just this new player who just wanted more. To be part of the United States team that won the Gold Cup, but not play very much on that team, I don't feel like I won the trophy. I want to be part of the team, I want to play every minute. Until then I need to improve, and when I improve hopefully by next year I can become a starter then."
Roldan will be one of the key figures in Saturday's MLS Cup final, even if his name won't make the marquee ahead of the likes of Clint Dempsey, Michael Bradley and Sebastian Giovinco. His evolution as a player has drawn the attention of TFC head coach Greg Vanney, who sees a player who continues to improve.
"A lot of young players have big engines, but are inefficient in how they use it," Vanney told Goal. "I think Cristian is getting smarter. He's recognizing when to use his engine and when to just sit into spots. The more experience he gains, the more intelligence he gets, the better he uses his engine, the better he's at at covering territory, I think he's maturing in his possession and his decisions."
As outstanding as his 2017 season has already been, Roldan wants more and sees himself doing more. He has the same aspirations of playing in the world's top leagues and starting for the national team that every young player has, but his growth over the past two years has many believing he is well on his way to achieving those dreams.
"I think I can improve from this year. I do believe I haven't hit my potential and I want to keep going," Roldan said. "I've set my mind to improving on little things like my passing, my forward off-the-ball running. Stuff like that can make the biggest difference for next year. This year it's nice that I had the year that I did, but I don't think I'll be satisfied if we don't win MLS Cup."