MLS
Can TFC-Sounders be the Lakers-Celtics rivalry of MLS?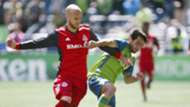 TORONTO — From the Cascadia Cup and California Clasico to the Atlantic Cup and Texas Derby, MLS has found little trouble cultivating rivalries. But when it comes to the MLS Cup final, the nature of the playoffs means those intra-conference feuds can't be featured on the league's grandest stage.
It's why fans should relish the occasion that is Saturday's MLS Cup final, with Toronto FC hosting the Seattle Sounders for the second straight year. Not only does it mark just the third time in league history the MLS Cup final has been a rematch — it's a clash featuring two of the league's marquee clubs, on and off the field.
The MLS Cup has a unique opportunity to birth an organic rivalry, based not on geography but heated title clashes — a la the trio of famed NBA Finals between Larry Bird's Boston Celtics and Magic Johnson's Los Angeles Lakers in the 1980s. If MLS wants its model franchises front and center, there are few teams — if any — the league would rather serve up in its showcase event than Toronto and Seattle.
"You want a final like this each and every year," Sounders midfielder Cristian Roldan said. "Obviously it's nice to see the underdogs go at it, but I think it's two powerhouse teams with fantastic quality."
Watch MLS live and On-Demand with fuboTV (7-day free trial)
There are plenty of parallels to draw between the clubs' respective ambitions. Both teams have burst onto the scene in the past decade, ushering in a new standard for MLS expansion. Both clubs boast passionate fan bases capable of filling stadiums designed to accommodate the other kind of football. They also went down similar roads to build MLS Cup contenders, spending big to bring U.S. national team stalwarts back to MLS and sign in-their-prime foreign stars.
"For the league to have more and more clubs that are willing to spend in different areas, willing to do whatever it takes to make sure that on and off the field things are done at the highest level, that's how the league gets moved forward," Toronto captain Michael Bradley said. "It's even more exciting when you have another season where the two teams standing at the end are two of those types of clubs, because I think it justifies everything that is being done and it encourages everyone else to do the same to try to keep pace."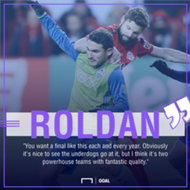 The clubs' trophy cases reflect those investments. In addition to last year's MLS Cup triumph over TFC, the Sounders have claimed a Supporters' Shield and four U.S. Open Cup titles since kicking off in 2009. Toronto, meanwhile, is on the verge of an unprecedented treble this season, having followed its Canadian Championship win in June with a record-breaking run to the Shield.
"I think they've had plenty of motivation after losing a final here last year," Seattle coach Brian Schmetzer said of TFC. "There's a lot of accolades that Toronto should certainly be deserved of. At the same time, our club, we're very proud of what we do. ... We all set a standard for ourselves in whatever department we have and we set that bar very high, and it's something that we will continue to do."
Although it's tough to nurture this kind of rivalry when MLS teams only face opponents from the opposite conference once in the regular season, it's safe to say Toronto remembers Seattle from the 2016 MLS Cup final all too well. After a controlling performance that held the Sounders to no shots on goal and forced Seattle goalkeeper Stefan Frei into historic heroics, TFC settled for a 0-0 draw through 120 minutes and fell on penalties before its frigid home crowd.
"I talk about second chances and how that doesn't come around so often for athletes, and in life in general," TFC defender Justin Morrow said. "We're looking forward to having a second chance and capitalizing on it."
If the league wants star power in its grand finale, star power it will get. Toronto playmaker Victor Vazquez and Seattle maestro Nicolas Lodeiro bring class and vision to the proceedings. TFC's talismanic Italian star Sebastian Giovinco has played at a level perhaps unmatched in MLS history. In the wake of the U.S. national team's failure to qualify for the World Cup, Seattle's Clint Dempsey and the Toronto duo of Michael Bradley and Jozy Altidore have plenty to prove.
Whether Saturday's matchup gives us an all-time MLS classic remains to be seen. But TFC and the Sounders have provided all of the necessary ingredients.
"There will be a lot of eyes on it — there always is," Toronto defender Drew Moor said. "MLS Cup is very important to this league, and to have two big-time teams in it should be great. I hope it's not a 0-0 penalty kicks game — I would love to see some goals for both sides. I'm a fan of this league, and obviously I want to win the game ultimately, but to have two model franchises that seem to just do absolutely everything right, I think it's great for the league."