Minerva Punjab's Thoiba Singh sets his sights high after Nike Premier Cup 2018 success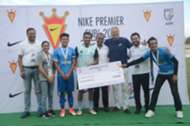 Minerva Punjab have been creating ripples in Indian youth football for quite a while now. From contributing several stars to the India U17 World Cup team which took part in last October's FIFA U17 World Cup, the side has now won the prestigious Nike Premier Cup for a third time running, establishing a hegemony on the U15 tournament organised by the All India Football Federation (AIFF). 
They did so by thrashing DSK Shivajians 4-0 on Thursday in the final of the 2018 edition at the Bambolim stadium in Goa. And at the heart of the momentuous win was Thoiba Singh - their trusted central defender. 
Not only did he help the team keep a cleansheet in the final, but also did the star turn at the other end of the pitch by scoring two goals. 
The young Manipuri defender was a picture of confidence when he revealed to Goal after the match that he always believed he would score in the game. "I felt that I would score goals tonight and I did that," he stated. 
"We feel extremely good at winning (the Nike Premier Cup). We were confident about winning before the match and now we have gone and done it." 
The youngster went on to credit Minerva Punjab owner Ranjit Bajaj, who he feels is like a brother to the team, for motivating them for the match. "We have done a lot of hard work. My teammates and our coaches.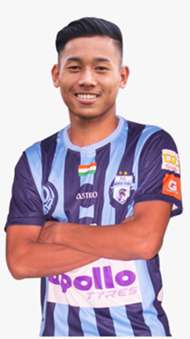 "Ranjit Bajaj sir has also helped us. He is like our brother and motivates us a lot and gives us pep talks before games." 
The lad from Moirang in Manipur is not one to get carried away, evident in the way he outlined areas where he needed to strengthen to climb up the professional ladder of the game. 
"I have to build up my stamina and develop my game a lot. I want to play for India youth teams and gain training exposure in foreign countries to further develop myself," he shared. 
Thoiba Singh's coach was also all praise for the young man, describing as a 'hungry' footballer. 
"Thoiba is always eager and hungry. He is a central defender and but he can be counted on anywhere on the pitch. He scored two goals despite being a defender in the final. He is an asset to the team," he said. 
The teenager might well get his opportunities at the national level, given the level of performances he's shown during the tournament and the fact that luminaries like Luis Norton de Matos (Indian Arrows coach) were watching the game.