Australia
Mile Jedinak should be dropped from the Socceroos starting XI, says Mark Bosnich and Paul Okon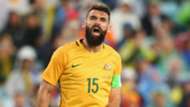 Mile Jedinak should be benched for the World Cup to allow other players to shine, according to former Socceroos Mark Bosnich and Paul Okon.
The 33-year-old midfielder was an unused subsitutute during Australia's 4-0 win over Czech Republic as he only arrived a few days earlier in the team's Turkish camp after losing the Championship playoff final with Aston Villa.
With Aaron Mooy excelling in a deeper midfield role alongside Massimo Luongo, Bosnich questioned the wisdom of bringing Jedinak in to disrupt the partnership.
"Giving him [Mooy] time and space he can hurt any defence and he did do that," Bosnich said on Fox Sports.
"He works very well with Mass Luongo as well, they have a really good understanding, and Luongo does the vast majority of his defending for him and so that when he does make those forward moves he's covered."
"For me, I would say yes [to leaving Jedinak out]. At this moment in time, it pains me to say and we saw it in the qualifiers the influence Jedinak had … but you definitely have to find a place for Luongo. I think his energy and his mobility is imperative.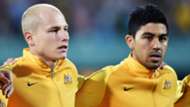 "And if you are going to play Mooy and Rogic together you're going to have to have somebody that's going to be able to do that type of running for them."
"I would play them [Mooy and Rogic] together and I'd have Luongo with them."
Okon agreed with his fellow pundit, believing Bert van Marwijk's decision was between Mooy and Jedinak for one position.
"I think Mooy will play therefore I think that cancels out Jedinak playing," Okon said.
"I think the both of them in there not enough mobility, and that's why Luongo would be more suited to play either with Jedinak or with Mooy. It's a choice that he's going to have to make."
The Socceroos take on Hungary in Budapest on June 9 before beginning their World Cup campaign against France in Kazan on June 16.

Their other group C matches come against Denmark and Peru.