Mexico
Mexico launches English-language social media channels, announces May friendly against Wales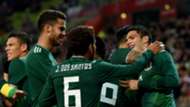 The Mexico national team rolled out its English-language social media accounts Thursday, a long-awaited move in the U.S. market where El Tri are one of the most popular teams.
In addition to its Spanish-language presence, Mexico now will tweet in English at @MiSeleccionMXEN and post on Facebook as "Mexico's national team" with the same tag as the Twitter handle.
El Tri also confirmed they will take on Wales on May 28 at the Rose Bowl in the Los Angeles area part of the team's preparations for the World Cup in Russia. With the contest against Wales announced, Mexico's itinerary in the buildup to the tournament is set.
"Well, basically there are more than 40 million fans of the Mexican national team in the United States. We practically have two territories — Mexico and the United States — because of the amount of fans we have in both countries," Guillermo Cantu, the general secretary of the Mexican federation, said at a news conference Thursday. "We could call it our second home.
"For us, it's really important to come and have games here. Of course, as I said, we have to 'start speaking English.' That's why I have this shirt," Cantu continued, holding up a Mexico jersey with the Twitter handle on the back, "to start engagement in English. For us, it's really important to have a partner in [Soccer United Marketing] in this venture we started 16 years ago and has grown in all aspects over time."
The match against Wales gives Mexico a game against top-20 opposition, according to the FIFA rankings, and will likely feature the roster manager Juan Carlos Osorio intends to take to Russia.
"It will basically the team that will represent Mexico in the World Cup. We will try to give the chance to players depending on how they finish their seasons and how they come to their camp," Osorio said in a news release.
El Tri return home to Mexico City for a send-off match match against Scotland on June 2 in the Estadio Azteca. Mexico then travels to face Denmark on June 9 before landing in Moscow ahead of the tournament-opening game against Germany on June 17.