Transfers
Menzo: Ajax Cape Town have to manage Coetzee's situation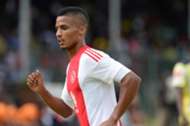 Ajax Cape Town coach Stanley Menzo could not hide his disappointment at Rivaldo Coetzee's lack of professionalism as he is nowhere near the training grounds.
Menzo hopes Coetzee's decision to boycott pre-season training will not come back to haunt him.
The 20-year-old is a player in demand with the likes of Kaizer Chiefs, Mamelodi Sundowns and Orlando Pirates reportedly keen on his services. 
Coetzee previously expressed his desire to play in Europe in the near future. 
"It's something we know about (Coetzee's absence), but it's something we have to manage. It's how it goes in football. It's not good for everybody involved - the club and the player," Menzo told The Star.
"Look, sometimes in life you have to make choices. You just have to hope that it doesn't affect your career in the future," Menzo said about Coetzee's absence.
He was named the club's Player of the Season and Players' Player of the Season in a campaign where they struggled to move up the log table.