Arsène Wenger
Mental weakness is Arsenal's problem, not Wenger - Henry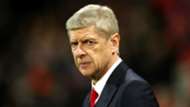 Thierry Henry does not believe Arsene Wenger has to leave Arsenal for them to win the Premier League, but says the manager must address his side's mentality problems.
Lacazette's Lyon departure is perfectly timed
Arsenal are now 12 points behind leaders Chelsea after suffering a 3-1 defeat to Antonio Conte's men at Stamford Bridge on Saturday. The defeat followed a 2-1 loss at home to Watford in the competition and has culminated in more calls from fans for the Frenchman to leave the club.
With his contract at the Emirates expiring at the end of the season and no news of a renewal, that could become a reality.
Henry feels it is not a necessary step for the Gunners, though, insisting a psychological weakness appears to be holding the team back.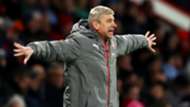 "Does this team have enough to win the Premier League? It can be debated. On paper, yes. If Chelsea is ahead, Arsenal also can be," he said on RMC. "But it is necessary to be in tune with all the players, to work in training. This team is not aware of what they can achieve. There must be self-management and self-discipline.
"I don't think Arsene has to leave. Should he change his tactics and his way of doing things? I don't know. But what he must do there is mental work. The tactics help, but what I saw against Chelsea is a mental problem. This is not easy to manage. The problem is more mental than quality. Because if Leicester can win the championship... For now, it is true that they are missing something. Statistics are there to prove that."
The Arsenal icon was then asked if he could end up in charge of the first-team in the future.
"If I were to tell you that I don't want to coach Arsenal, I would be lying," he replied. "But I have not done anything yet. I think about it, but it's far away, let me learn, we'll see later."
After his eight year spell in north London, the former France striker joined Barcelona, where he worked with current Manchester City boss Pep Guardiola. Henry quickly became a fan of the successful coach, stating he built on what Wenger had taught him.
Gallas suggests Wenger should leave
"Guardiola impressed me a lot. He made me see football in a different way. The last windows that were not open yet with Wenger, he opened them for me. 
"In one word, if I were to define it, I would say 'intense'. His way of seeing the game is extraordinary. But it is also his problem. With him, you must always be ready. I learned a lot with him and his vision of football is enormous.
"At City, this is the first time in his life that he is not first or second. It's not easy to manage. At City, too, there is an end of generation. There were problems. He must also learn in relation to what happens at England. I thought he would adapt faster."