I-League
Mehtab Hossain: I have a problem with a section of East Bengal fans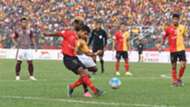 After a lot of drama, former India international midfielder Mehtab Hossain formally joined Kolkata giants Mohun Bagan for the upcoming 2018/19 season. After spending a year at Indian Super League side Jamshedpur FC, the Bengali midfielder decided to return to his home city.
Mehtab's homecoming produced a lot of drama. Initially, it was reported that the defensive midfielder would join his former club East Bengal where he had spent 10 seasons (2007-2017). It was also reported that the player had refused to accept any remuneration from the Red and Golds.
But on Tuesday, putting all rumours to rest, Hossain joined Mohun Bagan. After officially announcing his move today at the Mohun Bagan club tent, he said, "Couple of days back a media house had revealed that I had already signed for East Bengal and won't take any money from the club. This has definitely affected my market value. Last year I got INR 50 Lakh from Jamshedpur FC. Due to the above-mentioned news, my market value has gone down for sure. In modern football, no one will play for free."
Mehtab had previously worn the Green and Maroon jersey for three seasons from 2003-06. "I am really happy to come back to the club from where I started my career. I have always given my best wherever I have played and I will give my 100 percent again for Mohun Bagan this year," said the veteran midfielder.
The 32-year-old went on to say that he is still capable of playing at the top level. He said, "I do not have anything to prove. I have served Indian football for a long time. I will play as long as I want. It is absolutely my decision. I think I can still play for two or three seasons at the top level."
When asked about his decision to leave ISL and come back to an I-League side, he replied, "I left ISL only to be with my family. Jamshedpur have not yet signed a midfielder as they were waiting for me. I spoke to Ishfaq and informed him of my decision. Only for my family, I came back to Kolkata."
Mehtab pointed that the behaviour of a certain section of East Bengal fans has hurt him and thus he took the decision to join their arch-rivals this year. He said, "The Mohun Bagan secretary himself went to my home last night. I was deeply hurt after seeing the East Bengal fans' reaction on social media. I have done so much for the club. I don't have any problem with the East Bengal officials. I share a very cordial relation with them. I have a problem with a section of East Bengal fans."
He praised the current Mariners squad and suggested that he is looking to play for them this season. "Mohun Bagan have a good squad this season with Sankarlal leading the side. They have a good set of foreigners and I think the team will perform well this season," said Mehtab.
East Bengal senior official Debabrata Sarkar, on the other hand, suggested that Mehtab himself told the club that he was willing to join them without accepting any remuneration.
He said, "From Jamshedpur, he told us that he will join East Bengal. He even told that he knows about the club's financial situation and that he won't take any remuneration. We never said that Mehtab will join us, he himself claimed that he will sign for us. Now he has changed his decision and has joined Mohun Bagan. We wish him best of luck."