CECAFA Club Cup
Meddie Kagere: Gor Mahia did not show me love but Simba SC did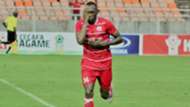 Rwandan striker Meddie Kagere has for the first time revealed why he ditched Gor Mahia for Simba SC .
Kagere, who was the top scorer at K'Ogalo before his shock transfer move to the Tanzanian outfit, has revealed that he left the Kenyan champions because they did 'not show me love.'
"I had no contract with Gor Mahia and they took time to renew the same and those, who loved me most came for me. As a player you look at what is good on the table and if a team loves you most, why can't you move, Simba showed me love hence the decision to leave."
Kagere signed a two-year contract with Simba SC and will earn close to Sh300, 000 a month. He however, admits that he will have to work hard to keep his place at the club.
"Simba have good players especially in my position. So I will have to be at my best always to play. And my main target is to help this great team win trophies. I know they can and I want the fans to keep supporting us."
Kagere scored his debut goal for Simba in a 2-1 win against APR of Rwanda on Monday.