PSL
Mashaba faces the music for alleged misconduct at Sundowns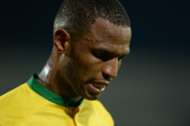 According to reports, Mamelodi Sundowns utility player Mzikayise Mashaba has been sidelined for alleged misconduct.
The 28-year-old has seen his game time hampered severely since his last appearance on May 10 against Baroka FC, and according to Times Media Group, it was due to the player 'substituting himself' in the crunch encounter.
It is reported that Mashaba took exception to a pep talk he received from his teammates during the half-time break. He allegedly became irritated and subsequently refused to return to the field for the second half.  
Other media reports suggest that the Sundowns technical team has grown frustrated with Mashaba's behaviour following allegations that he reported to training on numerous occasions smelling of alcohol.
His future is now in the balance with the club confirming their decision to suspend the former Bidvest Wits player.
"We can confirm his suspension but at the moment he remains a Sundowns player'" Sundowns media officer Thulani Thuswa told the publication
However, while the player's business manager Tim Sukazi admitted to being aware of what had transpired, he was quick to downplay the incident.
"I was advised of an incident that happened at one of their matches. I was made to believe that what happened would ordinarily arise in the heat of the moment during a football match'" Sukazi said.
"I do not believe that it is something that has sparked trouble between Sundowns and 'Muzi' (Mashaba). In my opinion' it is one of those internal matters that has been dealt with as such," he concluded.