Manchester City
Manchester City boss Pep Guardiola lauded the facilities his team availed of in Abu Dhabi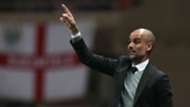 During Manchester City's recent stay in Abu Dhabi, Pep Guardiola got a glimpse of the state of the art facilities on offer and was impressed.
Speaking ahead of the Manchester City Abu Dhabi Cup, which takes place on Friday and Saturday, Guardiola marvelled at the infrstructure that was at his team's disposal during their warm weather training at the Emirates Palace.
"The trip [to Abu Dhabi] gave us a chance to get away and do things a little differently. Being in Abu Dhabi gives us a chance to come to a beautiful country, with a different climate to the one we're used to – it freshens things up for all of us," he said.
"The facilities out here in Abu Dhabi are outstanding. To have everything on one site in this way is invaluable and the hotel is of the very highest standard."
Despite the journey, Guardiola claimed that the staff and players benefited hugely from the trip.
"The staff have embraced my team and all those who work for the club throughout our stay. That is a huge plus to help us in making the trip as seamless as possible and we are incredibly grateful for all their efforts."
The inaugural Manchester City Abu Dhabi Cup 2017, which is supported by Abu Dhabi Tourism & Culture Authority and Etihad Airways, has seen many teams from the UAE, Oman and Bahrain register to take part and is open to Under 10, 12, 14 and 16 sides.