Transfers
Man Utd still the most appealing option for Mexican striker Lozano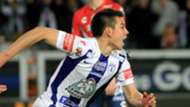 Pachuca forward Hirving Lozano admits to liking Manchester United "a lot" as he considers making a move to a top European league.
The 21-year-old was heavily linked with a transfer to Old Trafford in the summer of 2016. No deal was put in place, though, and he remained in his native Mexico.
The kids are NOT alright with Mou
After netting 15 goals in 26 appearances this season, Lozano believes he is now ready to take a step up in his career and is setting his sights on the Premier League or La Liga.
"I believe many [leagues] are beautiful, I like the English and the Spanish very much," he told Univision.
"But let's see how things are and decide.
"The one I would like most is Manchester, I like this club a lot and it's a very important club."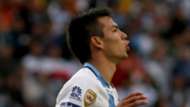 On his plans for the future, Lozano told Nacion ESPN: "I feel good, ready and prepared to get better and to play in a more competitive [league].
"People have told me that I have the possibility of going to play in a better, stronger league and hopefully I can improve my football."
Schneiderlin: Man Utd made me a robot
While the youngster would favour a switch to United, he has attracted interest from several other clubs.
Ajax and Celta Vigo are among those said to be keen, while Benfica and PSV Eindhoven are reported to have seen offers knocked back during the winter transfer window.