Manchester City
Man City can challenge Real Madrid for Champions League - Sane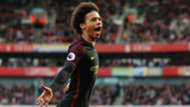 Manchester City are ready to challenge Real Madrid for the Champions League trophy next season, according to winger Leroy Sane. 
Man City 15/8 to win Premier League
The two clubs are set to meet in the International Champions Cup at the Coliseum on Wednesday, with the Liga giants having last season been named European champions for the second season in a row. 
Zinedine Zidane's side became the first club to claim back-to-back Champions League titles, beating Juventus in the final in Cardiff in May, their third time winning the trophy in four seasons.
City, however, have never gone beyond the semi-final stage of the competition; their best run coming to a halt at this stage following a 1-0 defeat by Real in 2015-16. 
Sane believes next season can be different, though, as long as this City side continue to develop under the guidance of manager Pep Guardiola.
"Real had a very good season last year," Sane told ESPN FC. "They are the best team in Europe at the moment, so it will be difficult [to win the Champions League], but it is a new season.
"They are two-time Champions League winner, so I think it is going to be difficult, but we can do it if we improve a lot and work on our problems.
"I don't think we are one of the favourites, but we can go through to the semi-finals. We have a team that can do it, experienced young players who play very well. If we work a lot and improve, we can do it.
Mou: Man Utd candidates for PL title
"Pep [Guardiola] has won many trophies and he gives us a lot of belief. It is a big year. I want to win some trophies."
City's meeting with Real presents Sane with the opportunity to go up against Gareth Bale, a player who the Germany star has previously admitting to basing his game on. 
And while they will be on opposite sides, Sane is looking forward to sharing the pitch with the Wales international. 
Yes, of course," Sane added. "He is also a very good player and I can learn a lot from him. It is nice to see him play football and play against him. We are both good at running with the ball, but it is his speed with the ball [which I admire]."
City have turned their attention to Monaco forward Kylian Mbappe having lost ground in the chase for Arsenal's Alexis Sanchez and are, as Goal revealed, in advanced talks to complete a world-record deal for the France international. 
Sane is confident in the current City strikeforce, however, though admits they may not stand up to Barcelona's prestigeous Lionel Messi, Neymar and Luis Suarez forward line.
"We have great striker and midfielders, that's true," he said. "Of course, up front we want to have a good season again and hopefully we can score many goals. We are all young and, when you are the same age together, you have the same interests.
Mourinho confirms transfer plans
"They [Messi, Suarez and Neymar] are three very good players, they are three of the best strikers in the world. We will try our best to be good and move on to that level.
"Gabriel, of course, is a special player but he is also very young. When he came over from Brazil, he was exciting on the pitch and really pleased to play for Manchester City and everyone could see it. He is a very special player for us."