Transfers
Mamelodi Sundowns defender Anele Ngcongca wants more SA players in Europe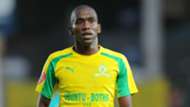 One of the experienced defenders in the Premier Soccer League (PSL), Anele Ngcongca wants more South African players to ply their trades in Europe.
The Mamelodi Sundowns right-back has urged South African players to go overseas and experience football at a different level.
Ngcongca spent more than 10 years in Europe and was one of the key players for Bafana Bafana before joining the Brazilians in 2016.
Speaking as they prepare to face Maritzburg United in the Nedbank Cup semi-final on Sunday, the Cape Town-born defender hopes to see more South Africans venturing out to play for top European clubs.
Players such as Bongani Zungu, Thulani Serero, Keagan Dolly, Lebo Mothiba are just some of the names currently plying their trades in Europe.
However, Ngcongca said he dreams of seeing more South Africans playing in tournaments such as the UEFA Champions League as that will benefit the national team going forward.
"For me, from the beginning I wanted to play in Europe, it was my dream. I had difficulties with the language and the weather, but I knew I wanted to play football. I wanted to play in the Champions League," Ngcongca told reporters.
"For the players that go to Europe just to visit the country, it's not good for our football. If you look at our national team, we have a few players in Europe and they are not playing regularly that needs to change," said the full-back.
"We don't have a lot of players in the Champions League. Dino (Ndlovu) played there…that is why we are struggling. And if you look at Senegal their starting line-up, it has players from the English Premiership, that's what makes it different," continued the 30-year-old.
"It's not about the money, it's about rubbing shoulders with the best and taking experience from Europe back to South Africa to benefit the country. If it's about money then we are not on the same page," urged the former KRC Genk player in Belgium.
The ex-AC Troyes player in the French Ligue1 reckons that his Brazilians teammate Percy Tau is ready to make his name in Europe, suggesting that a move beyond the borders of South Africa could make the striker an even better player as he is still young.
Recent media reports suggested that French side AS Monaco were in the country to watch the Witbank-born attacker in an aim to land his signature.
"Percy is still young. Age is on his side. I told him that he is a player that can play in France for Monaco or in Spain. It is the right time for him to leave and get the experience in Europe," concluded Ngcongca.