PSL
Maluleka: The good old days are back at Kaizer Chiefs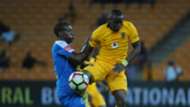 Kaizer Chiefs midfielder George Maluleka has admitted that he's slowly getting back to his best after picking up two man of the match awards since the start of the year.
However, the 28-year-old feels he couldn't have achieved his recent successes without his Amakhosi teammates.  
"I agree that I'm doing well, and I can feel that my confidence is back," Maluleka was quoted as saying by Isolezwe. 
"Although I'm doing well, I cannot take all the credit because my teammates have played a role as well," he said. 
"It's always nice to go to the training grounds. I think all the players are enjoying the training sessions; that's how good it is," added Maluleka. 
The former SuperSport United midfielder didn't want to be drawn into whether or not Chiefs stand a chance to win this season's PSL title, saying there's a long way to go before he can start making those claims.  
"We want to take each game as it comes. We want to win each and every game we play. There is still a long way to go before the end of the season that's why I don't want to talk about the league title," he continued. 
"We become happy when our supporters are happy. That alone is a confidence booster whenever we take to the field. I think the good old days are back at Chiefs and I'm sure it will remain that way foreverr," Maluleka concluded.