AFF U19 Championship
Malaysian fans outraged after U-19 team subjected to violence following win over Indonesia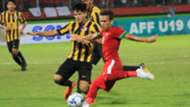 ---
BY        ZULHILMI ZAINAL       Follow on Twitter
---
Malaysia U-19's penalty shootout win over Indonesia U-19 in the 2018 AFF U-19 Youth Championship semi-finals has been a bittersweet experience.
On Thursday, Bojan Hodak's charges defeated the host nation 3-2 on penalties at the Gelora Delta Stadium, Sidoarjo, to reach the final match, after the 90 minutes had ended tied at 1-1.
But what happened next has called into question Indonesia's ability to host international level football competitions safely and securely.
After the match referee blew the final whistle, the home fans thronged the VIP stands, and started throwing bottles towards the Malaysian bench. 
The Malaysian players and staff were offered only minimal protection by the stadium security, and had to run one-by-one into the tunnel in order to escape being pelted with missiles, in an incicent that would probably remind many of war scenes.
The fracas was captured on video and shared on social media, and it has rightfully earned the ire of Malaysian fans and officials.
Sesaat setelah pertandingan para pemain Malaysia U-19 dilempari botol. Namun pihak pengamanan dengan sigap mengamankan para pemain Malaysia U-19. 🤔😲
.
Sangat disayangkan padahal antusias suporter di Sidoarjo sangat luar biasa dan harus berakhir dengan lemparan. pic.twitter.com/zBsZkrJCfI

— Liga Indonesia 🇮🇩 (@seputarligina) July 12, 2018
Semangat Kesukanan mesti dikekalkan kalah atau menang, lagipun kita ni jiran. Tidak begitu? Kalau anda menghantar pasukan anda sudah tentu kita akan melayan mereka dengan baik. Jaga la pemain pemain kami, mereka semua anak anak muda. Terima Kasih @PSSI #AFFU19 pic.twitter.com/R7VJoOjMWD

— Christopher Raj (@chrisraj23) July 12, 2018
Saya harap @Asean_Football Federation akan mengambil tindakan terhadap @PSSI akibat incident incident yang berlaku di Stadium. Penyokong Indon yang membaling botol terhadap pemain pemain Malaysia. #AFFU192018 pic.twitter.com/76kuBU0rbB

— Christopher Raj (@chrisraj23) July 12, 2018
Hodak was quoted by the Indonesian edition of Goal after the match:
"I can't believe that Indonesian fans would do something like this. This shouldn't be happening, as it is very dangerous. Furthermore, Indonesia is set to host the 2018 AFC U-19 Championship and the Asian Games."
The incident has also attracted the involvement of Malaysia's sports minister Syed Saddiq Abdul Rahman, and his ministry has been in touch with their Indonesian counterpart. In a statement issued regarding the incident, Saddiq has urged the country to ensure the safety of Hodak's squad until the final match this Sunday, as well as the safety of the Malaysian contingent in the Asian Games, which will begin this August.
However, Malaysian media and fans want sterner action to be taken against the Indonesian FA (PSSI), as this wasn't the first time such incidents have taken place. 
Indonesian fans have repeatedly jeered at and disrespected Malaysia's national anthem whenever Malaysian teams play in Indonesia, while Malaysian players have previously needed to travel to the match venue in armored vehicles, to protect them from physical harm.
In fact several violent incidents have also been reported during domestic competitions and international matches in the country over the past few years, which further call into question Indonesia's fitness to host international sporting events.
In July 2017, a Persib fan was reportedly killed by his fellow fans during a league match against Persija, purportedly in a case of mistaken identity.
Two months later, an Indonesian fan died during Indonesia's friendly match against Fiji, after he was hit by a firework that has been set off illegally by the home fans in the stands of the Patriot Stadium, Bekasi.
Just early this month, a reporter was assaulted by the players of third-tier side Sindo Dharaka while covering the club's match against Persid Jember. 
One particular recording of Thursday's incident even featured Malaysia assistant head coach, Hairuddin Omar pleading for the Asian Football Confederation (AFC) and the ASEAN Football Federation (AFF) to intervene.
A plea from Malaysia U19 asst head coach Hairuddin Omar right after last night's #AFFU19 semi-final match.
Video shared by my father, I highly doubt he was the one recording it. pic.twitter.com/HfwkMoICfk

— Zulhilmi Zainal❤💛 (@zulhilmibzainal) July 13, 2018
The country is set to host the 2018 Asian Games beginning this August, with football as one of the sporting events, as well as the 2018 AFC U-19 Championship in October.
It is unknown whether PSSI and the country's sports minister will improve on the safety of Malaysian players in the run up to the final match against Myanmar this Sunday, but the Young Tigers can expect another hostile reception during the match that will be held at the same venue, with the crowd expected to back Myanmar to trump their arch-rivals.
Follow Goal Malaysia's brand new Instagram account as well!